Workshop
Storytelling for Emotional Literacy
Using stories to build social and emotional skills in children and teens
Steve Killick

(UK)
Suitable for adult participants 16 years and above
Fri, 2 June 2017
10:00am – 4:00pm (1 hour lunch break; lunch not provided)
Blue Room, The Arts House (Map)
$150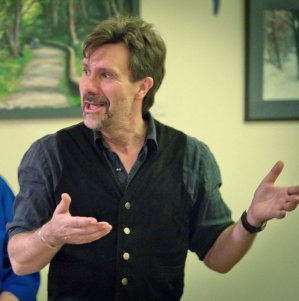 Recommended for:
art therapists/social workers/counsellors/mental health professionals
teachers and educators
anyone who is looking for a platform for community dialogue
those working with children and young people in diverse settings
This workshop will explore how stories and storytelling are a safe and playful way for children and young people to learn about the complex world of both positive and negative emotions.
Clinical Psychologist and Storyteller, Steve Killick, draws upon ideas from attachment theory, emotional intelligence and positive psychology. The workshop will guide participants to gain confidence in telling stories and create a safe space to explore and reflect on feelings. Steve will explore the process of telling stories and how they can be powerful in engaging children and young people of all ages to develop trust and imagination.
Stories, particularly traditional stories, offer multiple levels of meaning to be explored through metaphor and individual and cultural values. Storytelling is seen as an interactive process that allows for shared reflection and learning.
This workshop is ideal for those new to storytelling or looking to improve their confidence. It offers the opportunity to think about how stories are able to communicate on multiple levels of meaning and are particularly rich for exploring emotions – not all stories have happy endings and stories help us to understand difficult emotions such as loss, fear and anger by creating a safe environment through the interpersonal relationship and narrative structure.
Steve Killick is a Clinical Psychologist and Storyteller who has been using stories in education and therapeutic settings for 20 years. He is currently storyteller-in-residence for the Storytelling in Health International Conference taking place in Swansea, UK in June 2017. He leads a series of workshops to help foster carers use storytelling to build relationships and aid emotional and cognitive skills development.
Next
Storytelling through Found Objects