Xanthe Gresham-Knight
UK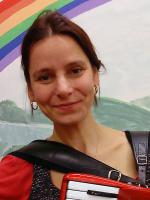 Xanthe Gresham Knight has been telling stories for over twenty years. She studied at Oxford University and the Guildhall School of Music and Drama, co-founded the Big Wheel Theatre Company and worked as an actress and teacher before discovering storytelling. She has toured Shahnameh for 15 years, recently working with Adverse Camber production company. A regular performer at the British Museum and the Smithsonian, she is also Storyteller in Residence for Psychologies magazine and has had Residencies at Harvard University, The Chelsea Physic Garden and Stoke and Staffordshire Libraries.
Xanthe wishes to acknowledge Adverse Camber Production Company, The British Museum, The Smithsonian, Magic of Persia, Chester Beatty Library, Arash Moradi, Crick Crack Club (London), Sherry Robinson for their support.
Part of