Message from the Creative Producer
Every culture has its own stories that explain the way we live and navigate the world around us. Stories were the first form of communication that started with non-verbal storytelling – using facial expressions and hand gestures. These stories by early man were painted on cave walls, carved as rock art and drawn on sand to document a community's stories and as a way of remembering. Over time we began to make guttural sounds that evolved into spoken language and we shared our stories orally. Storytelling predates writing. Orality came before literacy. As we evolved so did the ways in which we told our stories – we moved with dance, we sang with songs and we had rhythm with musical accompaniments. The tribe's stories were soon recorded on leaves, tree trunks, bamboo, ivory, parchment, cloth … these stories were scratched, printed, carved or painted. And soon they were written on paper, captured on film and stored in digital recordings.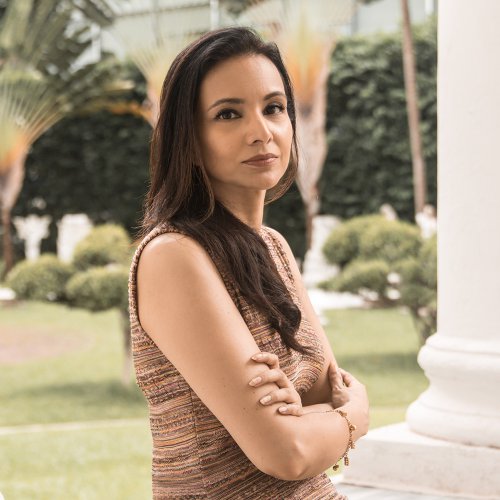 For stories to survive it is important for them to be passed on and retold. Myths, legends, folktales, fables and epics explain the universe we live in and help us understand the ways of nature, time and space. #BeLegendary honours the oral tradition by rejoicing in stories from around the world spoken, told, performed and painted.
To commemorate one of the oldest forms of storytelling the festival has commissioned visual artist mslatenightjam to create a Story Cloth together with audiences, storytellers and members of the community. Story cloths contain visual depictions of stories and were used by traditional tellers to reveal scenes and characters as the tale unfolded.
Our festival programme pays tribute to one of the oldest epic poems, Beowulf, that harks back to 300 – 400AD performed by storytelling duo The Telling Theatre from Denmark. Mara Menzies from Scotland captivates with The Illusion of Truth that combines both traditional and contemporary storytelling techniques. Literature and performance storytelling blend in Maimouna Jallow's adaptation of Lola Shoneyin's acclaimed novel The Secret Lives of Baba Segi's Wives.
The Singapore Showcase presents various organisations and their talented artists sharing stories from the oral tradition, spoken word, monologues and personal tales.
StoryFest's platform for emerging talents The Young Storytellers Showcase returns this year with A Caravan of Stories. Come and listen to our Young Storytellers bewitch and beguile you with their passion for storytelling.
Our focus on applied storytelling pays attention to storytelling and disability by expert in the field Dr. Nicola Grove and explores the role of stories in empowering others. Discover the connections between narratives, writing and multi-media collage with our creative workshops by Paul Rozario-Falcone and Emylia Safian that explore the different facets of stories. Learn techniques to engage children in storytelling, create personal stories and adapt literary texts for performance in our targeted workshops.
Families with children have a treat in store with Nordic god legends, African folktales reimagined and stories with plenty of mayhem! Travel the world as you listen to our dynamic and enchanting storytellers transport you with their tales.
A personal dream come true is the Story House sponsored by Big Tiny – a place for everyone, both young and old to disconnect from devices and to simply sit down and listen to one another and allow your imagination to soar. In this time of clutter and busyness it is vital to be able to make eye contact, to offer our time to listen deeply and to be allowed to share one's story.
#BeLegendary is a meeting place for listeners and tellers who are connected by the universal nature of stories that bridge age and culture. You're never too old to listen to a story and you're never too young to tell a story!
Stories inspire us to become heroes and heroines. Come and listen to tales both old and new, yet strange and true!
Kamini Ramachandran