Workshop
Adapting Novels for Performance
Maimouna Jallow

(Nairobi)
Fri, 1 June 2018
2:00 – 4:00pm (10-min break)
Living Room, The Arts House (Map)
$20
Recommended for:
Teachers & Educators
Artists
Storytellers
Writers
Spoken Word
This workshop draws on the belief that there can be a symbiotic relationship between written fiction and performance storytelling. Whilst there has been a renaissance in African literature in the past decade, the tradition of oral storytelling is on the decline. Maïmouna has developed a body of work based on the adaptation of novels by African women for the stage, using performance to give non-reading audiences access to literature — 183 million African adults are illiterate. Meanwhile, the project aims to revive oral traditions by incorporating song, dance and music, and creating a direct relationship with audiences using call and response.
Areas addressed:
This workshop will take participants through the step-by-step process of adapting novels into performance including:
what types of literary works are ideal for storytelling
how do you turn a book into a performance script
how do you maintain the spontaneity of storytelling in scripted performances
how do you make your show come alive with music, dance, and song
how to navigate permissions and rights
Highlights:
This workshop will be hands on, giving participants ample opportunity to test the theory
In addition, Maïmouna will demonstrate her work with literary fiction adaptation through short performances
Develop key skills to aid in how to adapt novels that you love into performances
Notes
PHOTOGRAPHY & VIDEO RECORDING RULES:
Unauthorized video and audio recording is not permitted for this event.
Photography without flash and without disrupting the artists/event is permitted within reason.
ADMITTANCE RULES:
All patrons are required to purchase tickets for admission.
Admission is subject to proof of tickets purchased.
Latecomers advisory: All latecomers must wait for suitable cue for seating.
No refunds, no exchange of tickets.
Maimouna Jallow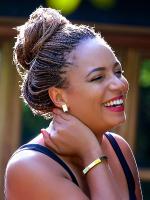 Maimouna is a Nairobi-based storyteller, journalist and communications consultant. She is co-founder and director of Positively African, an organisation that brings together a Pan-African network of activists, artists and academics working at the intersection between art and social justice. In 2015, Positively African launched The Nairobi Storytelling Festival.
Most recently, Maimouna has adapted and performed novels by African women for the stage as part of a series called 'Re-Imagined'. She has performed her adaptation of Lola Shoneyin's acclaimed novel, The Secret Lives of Baba Segi's Wives on several stages: Storymoja Festival (Ghana); the Writivism Festival (Uganda); Stories of the Anthropocene Festival (Sweden); Africa Writes (UK); the Cairo International Festival for Contemporary & Experimental Theatre (Egypt); The Scottish International Storytelling Festival and at the Ake Arts and Book Festival (Nigeria).
She is currently a fellow of the inaugural Ford Foundation African No Filter initiative, and is working on the 'Re-Imagined Folktales' children's book with writers from across Africa and the diaspora. Her work has been featured on the BBC, Forbes Woman Africa, and The East African, amongst others.