Performance • Adult Audience
Beowulf
(Asian Premiere)
The Telling Theatre

(Denmark)
Fri, 1 June 2018
8:00 – 9:15pm (No intermission)
Play Den, The Arts House (Map)
$25
Recommended for adult audiences ages 16 and above.
No admission for children below 12 years.
King Hrothgar celebrates building the great Deer Hall with a feast. In the dead of night a terrifying creature, Grendel slaughters his men while they sleep. Years later the young hero Beowulf comes to the Deer Hall and offers to fight Grendel. But he does not plan for the wrath of Grendel's mother… she rises from the bog and so begins the great battle!
Seated face to face in the imagined Viking Hall the distance between the action and the audience is minimal – and you become a part of the thrilling tale.
Jesper la Cour Andersen and Troels Kirk Ejsing bring this ancient Nordic legend to life through story, music and action.
The poem of Beowulf is one of the very early written sources that describes events on the soil of the Danes. According to researchers and historians the poem is written on the background of oral tradition around 700–800 AD and rooted in the Germanic Iron age of 300–400 AD. An incident gave a monk, probably in Northumbria, a reason to write it down. Today you can find a transcript from 1100 AD at the British Library in London.
Notes
PHOTOGRAPHY & VIDEO RECORDING RULES:
Unauthorized video and audio recording is not permitted for this event.
Photography without flash and without disrupting the artists/event is permitted within reason.
ADMITTANCE RULES:
All patrons are required to purchase tickets for admission.
Admission is subject to proof of tickets purchased.
Latecomers advisory: All latecomers must wait for suitable cue for seating.
No refunds, no exchange of tickets.
The Telling Theatre
Troels Kirk Ejsing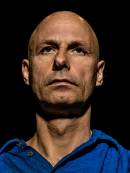 Troels Ejsing is a skilled storyteller, actor and musician. He runs his own company Dunkelblaa which produces storytelling theatre performances for children, youth and adults touring in Denmark and abroad. He has performed in UK, USA, Russia, Greece, Italy, Bulgaria, Canada and also in Denmark, Sweden and Finland. Comfortable with myths, folktales and legends he is also adept at self-created and self-lived stories. He is a regular performer at 'Storytelling Raids' and 'Compulsive Liars Night' in Denmark.
A talented musician he has composed unplugged soundtracks for The Telling Theatre and Dunkelblaa using various unusual instruments such as a watering can, washtub bass, body percussion and Jew's harp. Troels is also a composer, arranger, singer, bass and guitar player for the rock band de LYSLEVENDE.
Jesper la Cour Andersen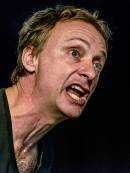 One of Denmark's renowned storytellers Jesper has been awarded several times internationally for his interactive style and unique social focus in storytelling. As founder of The Telling Theatre he is a leading figure in the development of contemporary storytelling and has devised a model for creative storytelling called 'Story Play'. A trained actor, mime and storyteller he is a recipient of government arts funding since 1996 for his professional work. Jesper has performed in 20 countries across four continents inspiring audiences of all ages.
He received 'The Children Theatre Award 2006', Denmark, the 'Tall Tale Competition International Award', St. John's Storytelling Festival 2007, Canada and in 2014 he was awarded for 'Craftsmanship in Creating Characters in Mythology' at the 15th International Festival of Children's Performances, Bulgaria. Beowulf received 'The Best Storytelling and Interaction Production' award at the Kingfestival 2009 in Russia.