Workshop
Collage as Storytelling
An Assembly of Senses
Emylia Safian

(Singapore)
Sat, 2 June 2018
2:00 – 4:30pm (10-min break)
Blue Room, The Arts House (Map)
$25 (Inclusive of art materials, and a canvas to take home)
Recommended for:
Parents & Caregivers
Teachers & Educators
Counselling & Therapy
Artists
Storytellers
Writers
This workshop will explore both mixed- and multi-media collages as a technique to weave personal stories with archetypal nature of mythological narratives, through an assemblage of different forms of fabric, paper and other ephemera. We will explore this early 20th-century modern art form coalescing with contemporary smartphone technology to enable the transformation of stories while continuing to honour the embodied and authentic "cut and paste" fragments on canvas.
Areas addressed:
As an applied form of storytelling that is non-performative, you will play storyteller-audience as you engage in your personal creative process.
The workshop draws upon theories of depth psychology, art therapy and human development theories, and will take on a strength-affirming approach
Highlights:
This workshop is experiential in nature, however experience in art is not necessary
Discover the language of imagery through art-making and narratives
Explore functions of personal and universal symbols
Make meaning of personal creative process
Have fun being creative with art-making!
All art materials will be provided and each participant will bring home their original canvas artwork. You will need your smartphone (with camera function) with you throughout the workshop.
Notes
PHOTOGRAPHY & VIDEO RECORDING RULES:
Unauthorized video and audio recording is not permitted for this event.
Photography without flash and without disrupting the artists/event is permitted within reason.
ADMITTANCE RULES:
All patrons are required to purchase tickets for admission.
Admission is subject to proof of tickets purchased.
Latecomers advisory: All latecomers must wait for suitable cue for seating.
No refunds, no exchange of tickets.
Emylia Safian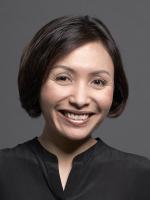 Emylia is an art therapist and art therapy educator with specialist training in stress, trauma, and loss. Her practice gravitates towards mind/body sciences and integrates physiology with psychology for an encompassing approach in capitalising human development. Since 2007, she has been in partnership with educational institutions, voluntary welfare organisations, government agencies, and NGOs within Southeast Asia, working with persons of all ages in situational and developmental crisis within different communities. Emylia is also informed by science of yoga and expressive arts therapies. She is passionate in reconnecting children and adults alike with the essential joie de vivre through play, creativity, warmth, compassion, and sensitivity, and to bring joy to the mind, body, and spirit.
Emylia has a Postgraduate Certificate in Clinical Supervision (University of Derby), MA Art Therapy (LASALLE), BA Psychology & Humanities (Monash University) and Certificate of Teaching in Higher Education (Temasek Polytechnic).