Performance • Family Audience
Legend of the Nordic Gods
Jesper la Cour Andersen

(Denmark)
Sun, 3 June 2018
11:00am – 12:00pm (No Intermission)
Play Den, The Arts House (Map)
$15
Recommended for family audiences ages 6 and above
No admission for babies and children below 3 years

TICKETS Selling Fast
Experience the mighty God of War in action, the Trickster God asking for good ideas and the Goddess of Love have enough! Watch as a nag of a Stallion helps the gnome of a Master Builder. Hold on when Thor gets back and hears that Freja is going to be married … Don't get scared when a Mare gives birth to a strange Foal.
Theatrical storytelling of the highest calibre with Jesper la Cour Andersen playing 11 roles and involving the audience as well. Enter the legendary world of the Nordic Gods and prepare to be surprised at every turn!
Notes
PHOTOGRAPHY & VIDEO RECORDING RULES:
Unauthorized video and audio recording is not permitted for this event.
Photography without flash and without disrupting the artists/event is permitted within reason.
ADMITTANCE RULES:
All patrons are required to purchase tickets for admission.
Admission is subject to proof of tickets purchased.
Latecomers advisory: All latecomers must wait for suitable cue for seating.
No refunds, no exchange of tickets.
All adults and children are required to purchase tickets for admission.
All children must be accompanied by an adult throughout the programme.
Jesper la Cour Andersen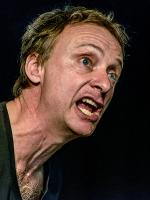 One of Denmark's renowned storytellers Jesper has been awarded several times internationally for his interactive style and unique social focus in storytelling. As founder of The Telling Theatre he is a leading figure in the development of contemporary storytelling and has devised a model for creative storytelling called 'Story Play'. A trained actor, mime and storyteller he is a recipient of government arts funding since 1996 for his professional work. Jesper has performed in 20 countries across four continents inspiring audiences of all ages.
He received 'The Children Theatre Award 2006', Denmark, the 'Tall Tale Competition International Award', St. John's Storytelling Festival 2007, Canada and in 2014 he was awarded for 'Craftsmanship in Creating Characters in Mythology' at the 15th International Festival of Children's Performances, Bulgaria. Beowulf received 'The Best Storytelling and Interaction Production' award at the Kingfestival 2009 in Russia.

Purchase Tickets Selling Fast ← All Programmes / ← Calendar