Performance • Family Audience
Magic, Mystery & Mayhem!
Mara Menzies

(Scotland/Kenya)
Sun, 3 June 2018
2:00 – 3:00pm (No Intermission)
Play Den, The Arts House (Map)
$15
Recommended for family audiences ages 5 and above
No admission for babies and children below 3 years
Join storyteller Mara Menzies as she shares some of the world's most exciting stories. Travel to Scotland to meet the magical faery folk and listen to their adventures. Then head across oceans to Africa to hear stories of great heroes and queens, meet animals that talk and play tricks on each other. Lose yourself in the colour and wonder of our world. This family event is not to be missed.
The Tale of Tam Lin (Scotland)
And so it was said that the boy Tam Linn was stolen by the Faery Queen and never returned from the deep woods. Janet goes on an adventure to rescue Tam Linn. The wicked Queen transforms Tam Linn into a whole host of animals! Can Janet still save him?
The Story of Fire (Africa)
There was a time before fire when man ate his food raw. One day fire comes to the village and wreaks havoc! But a strange discovery is made amidst the chaos… and it changed the way we eat!
Tortoise goes to a Feast in the Sky (Africa)
During the famine Ijapa the tortoise heard about a feast up in the sky. Only the birds were invited because they could fly. Ijapa disguised himself and tricked his way there only to learn a painful lesson.
Notes
PHOTOGRAPHY & VIDEO RECORDING RULES:
Unauthorized video and audio recording is not permitted for this event.
Photography without flash and without disrupting the artists/event is permitted within reason.
ADMITTANCE RULES:
All patrons are required to purchase tickets for admission.
Admission is subject to proof of tickets purchased.
Latecomers advisory: All latecomers must wait for suitable cue for seating.
No refunds, no exchange of tickets.
All adults and children are required to purchase tickets for admission.
All children must be accompanied by an adult throughout the programme.
Mara Menzies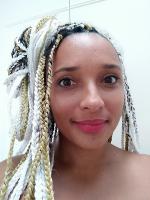 Mara Menzies is a Kenyan/Scottish storyteller who draws from her rich and diverse cultural heritage. She has performed and led storytelling workshops around the world including Kenya, Singapore, Jamaica, Sri Lanka, United Arab Emirates, Cuba, USA and across the UK. Her repertoire is substantial and her children are her two harshest critics. She is passionate in how stories have the power to challenge perceptions, to transform and heal. Mara firmly believes that stories will change our world for the better.
Mara Menzies has toured internationally sharing her particular style of storytelling at schools, festivals and conferences around the world for the last 10 years. She is Storyteller in Residence at Craigroyston Primary School, performs regularly at the Edinburgh Fringe Festival and is founder of the Kwale Heritage Trail, a unique platform for sharing and celebrating Kenyan stories through art and performance.