Masterclass
Storytelling & Disability 1:
Multi-Sensory Approaches to Traditional Tales
Dr. Nicola Grove

(UK)
Fri, 1 June 2018
10:00am – 5:00pm (1-hr lunch break; lunch not provided)
Blue Room, The Arts House (Map)
$200
Recommended for:
Special Needs Sector
Teachers & Educators
Counselling & Therapy
Parents & Caregivers
Community Facilitators
Storytellers
This workshop will explore effective ways of using traditional stories with children and adults who have language and communication difficulties. Multi-sensory storytelling involves awareness of the many modalities through which a story is communicated that go beyond words, including: use of voice and music, expressive movement and gestures, images, physical props, touch and smell.
The workshops addresses those with the most severe needs at the centre of the work, considering what a story means and how it can be told with authenticity and respect. When we go deeply into the story, solutions often present themselves. As well as pure enjoyment, stories can also promote empowerment, resilience, healing and inclusion.
All cultures have a resource of stories that address issues of exclusion and discrimination, and which can be used to strengthen the voices of those who are often left out. Participants will work with selected stories, introducing multi-sensory elements, and considering how they can be used to develop confidence and a positive sense of identity.
Highlights:
Participants can expect to enjoy stimulating discussion that probes our practice
Collaborate in creating your own adaptations of stories to take away and use in your work settings.
Use will be made of drama, props and sensory exploration.
Be ready to take part, play seriously, but don't feel under pressure
Skills:
Participants will understand the critical role of stories in shaping how we think about each other and the world.
Learn how to adapt a traditional story so that it can be enjoyed by everyone across the range of ability.
Discover how to employ multi-sensory tools selectively and appropriately to convey a story.
Understand the significance of how disability is represented in traditional tales in different cultures.
Develop ideas for using traditional stories to empower people who are marginalised through disability.
Take away a fun story ready to use in your practice.
The workshop will appeal to anyone working with individuals who have communication difficulties, including intellectual disabilities - moderate, severe or profound; specific language difficulties; autistic spectrum disorders; those with severe hearing or visual impairments - in educational, health, social care or community settings. Some knowledge and experience is recommended, either in special needs or in storytelling practice.
There are links with the second master class Storytelling & Disability 2 (Monday 4th June), dealing with personal storytelling, but each workshop can be attended independently.
Notes
PHOTOGRAPHY & VIDEO RECORDING RULES:
Unauthorized video and audio recording is not permitted for this event.
Photography without flash and without disrupting the artists/event is permitted within reason.
ADMITTANCE RULES:
All patrons are required to purchase tickets for admission.
Admission is subject to proof of tickets purchased.
Latecomers advisory: All latecomers must wait for suitable cue for seating.
No refunds, no exchange of tickets.
Dr. Nicola Grove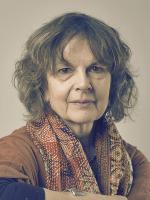 Nicola Grove trained as a teacher and speech therapist, specialising in intellectual disability, special educational needs, and sign language. Her doctoral research explored the linguistic and creative status of the manual signing of children with disabilities. She pioneered the use of literature and story in special schools, winning an award for her book on the topic. She has worked as a consultant on curriculum, narrative and communication, most recently for the Story Museum in Oxford. Currently she holds an honorary lectureship at the Tizard Centre, University of Kent.
She left her university post in London to set up Openstorytellers, an award winning charity which promotes voice and community empowerment for people with intellectual and communication difficulties.Working in partnership, the members tell legends, historical and personal stories, in schools and day services, at conferences and festivals and at training courses. Story is also used to support self-advocacy and citizenship, using an innovative collaborative approach which has transformed the ability of young people to speak up for themselves.
Nicola has given presentations and workshops all over the world. She has researched the representation of people with disabilities in myth and legend, collecting stories in South Africa, Canada, Australia and Japan, where she developed a project to challenge stigma through celebrating 'Heroes with a Difference'. Her books include: Odyssey Now (1996); Ways into Literature (2005); Learning to Tell (2009), Using Storytelling to Support Children and Adults with Special Needs (2013) and The Big Book of Storysharing (2014).