Workshop
Safe Space Stories
Writing Stories in a Safe & Affirming Group
Paul Rozario-Falcone

(Singapore)
Sun, 3 June 2018
10:00am – 1:00pm (10-min break)
Living Room, The Arts House (Map)
$25
Recommended for:
Parents & Caregivers
Teachers & Educators
Artists
Storytellers
Writers
Community Facilitators
Experience the transformative writing method known as the Amherst Writers & Artists (AWA) method. "Oh, I'm not a writer or an artist or a creative person!" If you find yourself saying this, then this workshop is just for you. Anyone who writes is a writer, whether it's a tweet, an e-mail or a novel. We humans are by nature creative and within each of us is a voice waiting to come out and be heard. Safe Space Stories workshops are designed to allow you to find your voice within the setting of an affirming, non-judgemental space.
We write using prompts (lines of poetry, images, physical objects, etc.), writing in short bursts of time. We can write to the prompt or ignore the prompt entirely and write whatever comes to mind. We can then choose to share our writing with our fellow-writers, or not. It's entirely up to you. We listen to our stories with an open heart and mind. The group is then invited to affirm the newly-created writing using only positive language. No questions, no criticisms, no suggestions for improvement. You won't be 'taught' what good writing is, but you will be encouraged to listen to yourself and to your fellow writers and respond in a positive, uplifting way. You'll be surprised at how much we can learn about the craft of writing using this simple, liberating method.
Highlights:
Safe Space Stories offers a safe, affirming, encouraging space in which to write and share stories.
Safe Space Stories teaches listening with an open heart and mind and gives us the chance to affirm and encourage each other as writers.
Testimonials:
"I have attended other workshops where the criticism can be crippling and stifling to one's creativity. But not here. The group writing together makes it less lonely. At first, I was anxious to share my writing because it was raw with incomplete thoughts and sentences. But the method Paul used to conduct the workshop provided only positive feedback and support. It encouraged the writing process at whatever stage you are at. I felt inspired to share my second piece of writing readily. It was amazing to hear the beautiful stories by my fellow writers who wrote them in such a short time. There is no better and safer space to express oneself through writing than Safe Space Stories."
– Wun
"Paul's Safe Spaces Stories workshop is a magical environment, where people are able to create writing in a nurturing and inspiring community. Participants are safe to take productive risks and are instantly rewarded for their efforts in this workshop. I've been in many workshops, and have also led my own, and Paul's calming energy and well-designed prompts are a unique combination and are not to be missed. I look forward to attending another workshop soon."
– Alison Lowenstein
Notes
PHOTOGRAPHY & VIDEO RECORDING RULES:
Unauthorized video and audio recording is not permitted for this event.
Photography without flash and without disrupting the artists/event is permitted within reason.
ADMITTANCE RULES:
All patrons are required to purchase tickets for admission.
Admission is subject to proof of tickets purchased.
Latecomers advisory: All latecomers must wait for suitable cue for seating.
No refunds, no exchange of tickets.
Paul Rozario-Falcone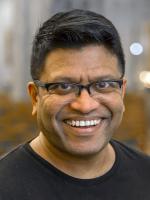 Paul is the founder of Safe Space Stories, a space dedicated to uncovering one's true creative voice. He co-founded the Singapore Literature Festival and the Second Saturdays literary reading series in New York, both of which are in their fourth year. He has written and co-written eight books of fiction, the last being 'Zheng He & the Treasure Fleet, 1405-1433: A modern-day traveller's guide from antiquity to the present'. A linguist, an avid traveller and absorber of stories, Paul has degrees from Oxford, London and New York in law, religious anthropology and publishing, respectively. He is a certified facilitator of the Amherst Writers & Artists method.
Paul created Safe Space Stories to help people tap into their innate creativity. Safe Space Stories uses the Amherst Writers & Artists (AWA) method, developed by writer Pat Schneider. In 2014 he attended AWA workshops in Brooklyn, organised by the New York Writers Coalition. Inspired by the method and the community growing around it, he continued taking part in the public workshops organised by NYWC. In 2016 he trained as a volunteer leader with NYWC and led his first workshop for a few months at The Lighthouse, a transitional housing facility for young men in the Bronx. He continues to lead NYWC workshops at libraries, schools, and community centres in the various neighbourhoods of New York City.
In 2017, Paul received certification from the AWA Foundation. It is a method he fully believes in, a method with positive effects he witnesses at every workshop he attends or leads. He is grateful to introduce people to this method and to journey with them as they find their true, creative selves through writing.