Public Activity
Story Cloth Making
mslatenightjam
Fri, 1 June 2018
11:00am – 6:00pm
Front Porch, The Arts House (Map)
Free with registration
Recommended for ages 4 and above
Paying tribute to the festival theme #BeLegendary, visual artist mslatenightjam creates illustrations inspired by the key stories told during StoryFest 2018. Taking elements from characters, landscapes and motifs, she paints a series of Story Cloths reminiscent of the traditional pieces of illustrated fabrics used by bards and storytellers.
Commissioned by The Storytelling Centre Ltd, the Story Cloth is a free community engagement activity suitable for all ages. Pick up a brush, be guided by mslatenightjam, and take your time as you bring life to visual stories through colour. Watch as the legends and myths are slowly revealed over the span of the festival. Ignite your imaginations and #BeLegendary!
ADMITTANCE TERMS:
Story Cloth Making can only accept small groups of participants for each session – 15 pax maximum per session.
All visitors must queue in an orderly manner and wait for their turn to participate in the Story Cloth Making activity.
It is not advisable to bring bulky items or belongings for this activity due to the set-up of the materials and the outdoor setting.
Food and beverage is not permitted within the Story Cloth Making area.
Each facilitated session is limited to 20-mins in order to allow others a chance to participate in the activity.
Safety is priority – patrons who pose a threat to others safety or to the artwork structures, will be asked to leave the activity.
StoryFest is not responsible for any loss or damages of belongings.
StoryFest is not responsible for any accident or personal injury occurring in or around the Story Cloth Making activity.
Notes
PHOTOGRAPHY & VIDEO RECORDING RULES:
Unauthorized video and audio recording is not permitted for this event.
Photography without flash and without disrupting the artists/event is permitted within reason.
ADMITTANCE RULES:
All patrons are required to register for admission.
All children must be accompanied by an adult throughout.
Subject to weather conditions – organiser reserves the right to cancel the programme.
mslatenightjam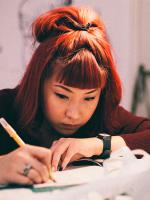 Joy is an artist and illustrator who enjoys exploring creative applications for her drawing and acquires inspiration through sharing with others. Her previous work experiences include working as a graphic designer and an art educator in secondary level. She has worked on projects, specially commissioned by Food Republic, All Things N'ice, Passion Arts, and Community Clubs to produce artworks and murals.
Her recent graduation from LASALLE's Fine Arts Faculty provided her with an artistic edge over her former Visual Communication Diploma from Temasek Polytechnic, which formulates her multi-disciplinary approach in her creative sensibilities. An honest simple aesthetic with a tinge of delightful sunshine is what she appreciates the most.