Performance • Adult Audience
The Illusion of Truth
(Asian Premiere)
Mara Menzies

(Scotland/Kenya)
Sun, 3 June 2018
8:00 – 9:15pm (No Intermission)
Play Den, The Arts House (Map)
$25
Recommended for adult audiences ages 16 and above
No admission for children below 12 years

TICKETS Selling Fast
Enter worlds where not everything is as it appears to be. The Illusion of Truth explores our relationship with the truth. How do we judge others and ourselves? How do we use legends and myth to explain the natural world around us? These stories will have you sitting on the edge of your seat. Prepare for an unforgettable experience! Mara Menzies draws from her African and Scottish heritage to give insight into three fascinating, thought provoking tales from Kenya, Scotland and Nigeria.
The Changeling (Scottish traveller tale)
A tale of an infant child who wouldn't stop crying for he had been 'taken' by the faerie folk. In order to get their true child back, the parents must pass a terrible test of faith.
Ochosi (Cuba/Nigeria)
The young hunter Ochosi desires to join the ranks of the Orisha gods. But he must please the gods with a special gift. And this gift comes with a price he must pay.
The Woman who wanted to Eat Meat (Kenya)
According to Gikuyu tradition women were not allowed to eat meat. But Washu discovered the taste of meat and breaks the rules of her tribe. And there are consequences to bear…
Notes
PHOTOGRAPHY & VIDEO RECORDING RULES:
Unauthorized video and audio recording is not permitted for this event.
Photography without flash and without disrupting the artists/event is permitted within reason.
ADMITTANCE RULES:
All patrons are required to purchase tickets for admission.
Admission is subject to proof of tickets purchased.
Latecomers advisory: All latecomers must wait for suitable cue for seating.
No refunds, no exchange of tickets.
Mara Menzies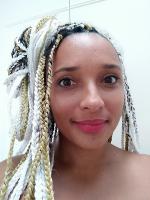 Mara Menzies is a Kenyan/Scottish storyteller who draws from her rich and diverse cultural heritage. She has performed and led storytelling workshops around the world including Kenya, Singapore, Jamaica, Sri Lanka, United Arab Emirates, Cuba, USA and across the UK. Her repertoire is substantial and her children are her two harshest critics. She is passionate in how stories have the power to challenge perceptions, to transform and heal. Mara firmly believes that stories will change our world for the better.
Mara Menzies has toured internationally sharing her particular style of storytelling at schools, festivals and conferences around the world for the last 10 years. She is Storyteller in Residence at Craigroyston Primary School, performs regularly at the Edinburgh Fringe Festival and is founder of the Kwale Heritage Trail, a unique platform for sharing and celebrating Kenyan stories through art and performance.

Purchase Tickets Selling Fast ← All Programmes / ← Calendar