Workshop
The Magic of Storytelling with Children
Mara Menzies

(Scotland/Kenya)
Sat, 2 June 2018
11:00am – 1:00pm (10-min break)
Blue Room, The Arts House (Map)
$20
Recommended for:
Parents & Caregivers
Teachers & Educators
Counselling & Therapy
Storytellers
Librarians
Community Facilitators
Working with children is exhilarating, exhausting and there is never a dull moment! Stories have incredible power and influence over children and is an excellent conduit to a multitude of important skills such as:
Improved listening skills
Improved vocabulary and grammar
Improved expressive skills
Greater confidence
Greater imagination and creativity
This workshop will introduce practical tips and techniques on how to engage with young audiences between ages 4 to 8 years.
For many people who work with children, storytelling can feel like a terrifying proposal. This workshop is ideal for those new to storytelling, looking to improve their confidence or those who wish to find ways to better incorporate it into their work. It offers practical solutions for engaging a young audience, including how to use your voice, facial expressions and physicality to keep the children at the heart of the story.
Participants will be taken on a journey of discovery and explore diverse strategies for group engagement. Using a combination of storytelling, hands-on activities and discussion, the workshop will explore the process of choosing the right kind of stories for children and methods of ensuring children play an important role in the storytelling process.
This workshop is an interactive and participatory experience with group discussions and group activity as well as opportunities to try out techniques in a safe and supportive space.
Areas Addressed:
A practical workshop that will explore tips and techniques to assist storytelling with children:
How to engage the children physically
Importance of exaggerated facial expressions
Methods to increase confidence
Voice techniques: call and response, song and rhyme, repetition
Conveying characters convincingly
Links to sources of stories and other story aids online
Tools that are available and the different ways to maximise their efficiency
Please come in loose, comfortable clothing.
Notes
PHOTOGRAPHY & VIDEO RECORDING RULES:
Unauthorized video and audio recording is not permitted for this event.
Photography without flash and without disrupting the artists/event is permitted within reason.
ADMITTANCE RULES:
All patrons are required to purchase tickets for admission.
Admission is subject to proof of tickets purchased.
Latecomers advisory: All latecomers must wait for suitable cue for seating.
No refunds, no exchange of tickets.
Mara Menzies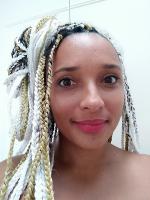 Mara Menzies is a Kenyan/Scottish storyteller who draws from her rich and diverse cultural heritage. She has performed and led storytelling workshops around the world including Kenya, Singapore, Jamaica, Sri Lanka, United Arab Emirates, Cuba, USA and across the UK. Her repertoire is substantial and her children are her two harshest critics. She is passionate in how stories have the power to challenge perceptions, to transform and heal. Mara firmly believes that stories will change our world for the better.
Mara Menzies has toured internationally sharing her particular style of storytelling at schools, festivals and conferences around the world for the last 10 years. She is Storyteller in Residence at Craigroyston Primary School, performs regularly at the Edinburgh Fringe Festival and is founder of the Kwale Heritage Trail, a unique platform for sharing and celebrating Kenyan stories through art and performance.