Performance • Adult Audience
The Secret Lives of Baba Segi's Wives
(Asian Premiere)
Maimouna Jallow

(Nairobi)
Sat, 2 June 2018
8:00 – 9:15pm (No Intermission)
Play Den, The Arts House (Map)
$25.00
Advisory 16 (Some Mature Content)
Recommended for adult audiences ages 16 and above
No admission for those below 15 years

TICKETS Selling Fast
Based on the novel by Lola Shoneyin, 'The Secret Lives of Baba Segi's Wives' is an endearing and powerful tale of deception, betrayal, love, and friendship. It chronicles the life of Baba Segi, the ultimate patriarch, as he tries to unravel the mystery behind his fourth wife's infertility. Through his quest, we explore the burdens that society places on women and the cunning ways these women escape from the confines of poverty and patriarchy. Be ready to laugh, cry and connect with five amazing characters, all performed by storyteller Maïmouna Jallow.
Notes
PHOTOGRAPHY & VIDEO RECORDING RULES:
Unauthorized video and audio recording is not permitted for this event.
Photography without flash and without disrupting the artists/event is permitted within reason.
ADMITTANCE RULES:
All patrons are required to purchase tickets for admission.
Admission is subject to proof of tickets purchased.
Latecomers advisory: All latecomers must wait for suitable cue for seating.
No refunds, no exchange of tickets.
Maimouna Jallow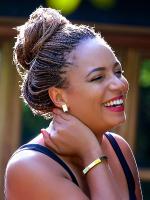 Maimouna is a Nairobi-based storyteller, journalist and communications consultant. She is co-founder and director of Positively African, an organisation that brings together a Pan-African network of activists, artists and academics working at the intersection between art and social justice. In 2015, Positively African launched The Nairobi Storytelling Festival.
Most recently, Maimouna has adapted and performed novels by African women for the stage as part of a series called 'Re-Imagined'. She has performed her adaptation of Lola Shoneyin's acclaimed novel, The Secret Lives of Baba Segi's Wives on several stages: Storymoja Festival (Ghana); the Writivism Festival (Uganda); Stories of the Anthropocene Festival (Sweden); Africa Writes (UK); the Cairo International Festival for Contemporary & Experimental Theatre (Egypt); The Scottish International Storytelling Festival and at the Ake Arts and Book Festival (Nigeria).
She is currently a fellow of the inaugural Ford Foundation African No Filter initiative, and is working on the 'Re-Imagined Folktales' children's book with writers from across Africa and the diaspora. Her work has been featured on the BBC, Forbes Woman Africa, and The East African, amongst others.

Purchase Tickets Selling Fast ← All Programmes / ← Calendar