Adult Audience Performance
Asian Premiere:
A Night of Magical Myths:
Festival Closing Showcase
Ana Maria Lines

(Brazil),

David Novak

(USA),

Daniel Allison

(Scotland),

Martina Pisciali

(Italy)
Sun, 23 June 2019
8:00 – 9:30pm (No Intermission)
Play Den, The Arts House (Map)
$25
Recommended for adult audiences ages 16 and above. No admission below 15 years.
Advisory (Some Mature Content)

A night of magical myths ranging from tropical jungles to icy mountains that celebrate the diversity of the oral tradition. David takes us to the edge of darkness as he grapples with Death. Daniel explores heartbreak and terror through ancient Celtic legends. Barbecued husbands are dished out in Ana's tribal tales from Brazil. Lovers from different worlds struggle to remain together in Martina's rare Italian folktale.
Stories on the Edge of Dark
By David Novak (USA)
Why do we fear the dark? Is something there? Yes, the dark is there, and the dark is where we put everything we do not want to look at. David Novak shares two original stories inspired by darkness. No-See-Ums is a fireside story inspired by Native American tales of a blood-thirsty cannibal and the terrified people. Set in a tavern, Drinks with Death is a tale of a storyteller who must decide if he should walk with Death.
Daughter of King-Under-Wave
By Daniel Allison (Scotland)
The Daughter of King-Under-Wave is a tale of the Fianna, a legendary band of Celtic warriors who protected the shores of Scotland and Ireland long ago. Some believe it to be an early ancestor of the Arthurian stories of the Holy Grail. It is an adventure story full of beauty and terror, heartbreak and wonder, and is one of the central stories in Daniel's forthcoming collection, 'Finn & the Fianna'.
Barbecued Husbands
By Ana Maria Lines (Brazil)
A collection of stories about wives that barbecue their husbands, heads that go wandering off in the night, a tribe formed only by women and a ferocious father. Travel to the Amazon rainforest upon a raft of traditional tribal tales and listen to mythical situations beyond imagination. Based on the anthology of Brazilian jungle myths collected by anthropologist Betty Mindlin.
The Pale Mountains
By Martina Pisciali (Italy)
A timeless love story between the princess in the moon and the king from the earthly realm. Both their worlds are so different and despite their deep love for each other it is unbearable to live in an alternate realm. A rare folktale from the northeastern ranges of Italy that describes the origin of the Dolomite Mountains.
Notes
Photography & Video Recording Rules:
Unauthorised video and audio recording is not permitted for this event.
Photography without flash and without disrupting the artists/event is permitted within reason.
Admittance Rules:
All patrons are required to purchase tickets for admission.
Admission is subject to proof of tickets purchased.
Latecomers advisory: All latecomers must wait for suitable cue for seating.
No refunds, no exchange of tickets.
Ana Maria Lines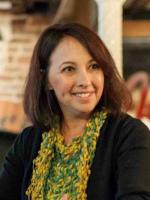 Ana Maria Lines is a storyteller, researcher and workshop leader with an international reputation, vast repertoire and captivating style. She was born in São Paulo, Brazil and grew up in a multicultural environment surrounded by stories, myths and traditions. She has developed her unique storytelling style by observing tribes and their relationship with traditional stories, dance and music. Through this enriching background and a vast repertoire of South American tales she is comfortable sharing Brazilian mythology as well as adaptations of real life stories.
She studied Social Communication, Journalism and Marketing and as a journalist she worked for radio stations, newspapers and magazines while in Brazil. To foster the exchange of personal and traditional stories in the various communities she visited, she developed projects on storytelling and reading. As a trainer in the corporate sector, she used storytelling techniques to encourage motivation, creativity, memory and building relationships between groups.
Ana moved to England in 2007 and is the organiser of the Stafford Knot Storytelling Club. She performs regularly in storytelling clubs, schools and arts festivals. Renowned for her performance Barbecued Husbands and her one woman show Reflecting Fridas, she has captivated audiences with the myths of Brazilian indigenous tribes and the life story of Mexican artist Frida Kahlo. She conducts storytelling workshops and applies storytelling in community projects and health organisations. Representing Brazil and England, she has performed in international festival in Mexico, Cuba, Spain, Italy, Scotland and England.
David Novak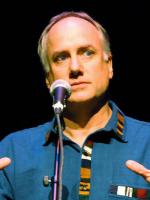 David Novak is Founder and Artistic Director of A Telling Experience. An internationally touring storyteller he is a veteran of the National Storytelling Festival, USA. He was on the opening team of The Disney Institute as Director of Story Arts and is a faculty member of the Storytelling Program at East Tennessee State University. David keynotes for numerous library and educational conferences, including the Sydney International Storytelling Conference, Czech Children's Theatre Festival and American Alliance for Theatre in Education. He has also toured for the Lincoln Center Institute and the LA Music Center. David is recipient of the Circle of Excellence for storytelling, and the Aurand Harris Memorial Playwriting Award for excellence in professional theatre for children. He is an A+ Fellow for the North Carolina Arts Council and a Teaching Artist for the Wolf Trap Institute.
With a background in theatre, he applies his skills as a writer, performer and teaching artist to the development of public discourse, community building and education. Over 30 years of practice, David developed a unique style of narrative combinatorics. A master of literary collage, he contrasts the familiar with the surprising, simplicity with complexity and the ordinary with the fabulous.
Highly prized for his ability to bring ancient tales, classic myths, and original stories to life and enthral audiences of all ages, he is in demand for his school presentations, stage plays, keynotes, and workshops.
An animated and innovative storyteller, David has been described as "The Brothers Grimm and Carl Jung meet Monty Python."

"A gifted teller who enhances his stories with a bag of tricks." – Smithsonian Magazine
Acknowledgements & Credits:
National Storytelling Network
This program has been made possible in part through the sponsorship of the National Storytelling Network.

Mid Atlantic Arts Foundation
This engagement is supported by Mid Atlantic Arts Foundation through USArtists International in partnership with the National Endowment for the Arts and the Andrew W. Mellon Foundation.
Daniel Allison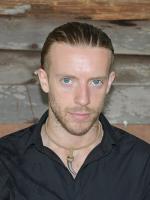 Daniel Allison is a storyteller and author. Known for his evocative style and lyrical language, he has performed at countless schools, venues and campfires across the UK as well as in the USA, Portugal, Turkey, the UAE and India. His performances bring together Celtic legends with stories from the many diverse cultures he has explored and are woven together with spellbinding didgeridoo music.
A fascination with the ancient Celtic bards has led Daniel to walk coast-to-coast across Scotland twice, camping in the hills by night and sharing stories by day, in order to understand better the life of a travelling storyteller.
Daniel is a regular performer at the Scottish Storytelling Centre in Edinburgh, where he has debuted performances including The Wilderness Within, a reimagining of the life of the naturalist John Muir; The Missing Lynx, a sell-out exploration of re-wilding through storytelling; and the sell-out Dark Tales, a strictly-for-adults evening of horror stories from around the world.
Daniel is the author of the forthcoming collection 'Finn and the Fianna: Celtic Legends Retold', a new retelling of the Finn MacCoull stories, available from the History Press in 2020. He is currently at work on a series of children's novels set in prehistoric Scotland while creating a storytelling podcast and training full-time to be a Muay Thai fighter.
Martina Pisciali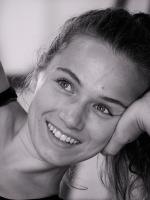 Martina Pisciali is a young storyteller and is the apprentice of Paola Balbi and Davide Bardi from Raccontamiunastoria in Italy. Through her mentorship she began to perform regularly at 'Raccontamiunastoria – International Storytelling Festival in Rome' and at 'Storytelling Time/Es war Einmal – International Storytelling Festival Bolzano'.
Her repertoire represents traditional Italian tales as well as folklore from her native mountains, the Dolomites region. She also tells Greek and Roman myths, and global folktales with a focus on the Middle East and the Mediterranean. Her postgraduate degree in Agricultural Sciences resulted in a penchant for stories about nature and magic. Fluent in English, Italian and German, she is also a story translator for bilingual performances.
Recently she has expanded her experience by spending several months each year in the United Arab Emirates working both as performer and as assistant to the festival directors of 'Tales on the Island – The International Storytelling Festival in Sharjah'.
She is co-founder of Storytelling Torino and has been organising the monthly Storytelling Café in Piedmont since 2013. Last year she co-designed a storytelling radio programme for RAI (National Radio and Television). She is currently working on two projects – a performance together with accordion player Tommaso Zamboni, inspired by the refugee crisis on the Balkan Route; and a show about a side-story of the Aeneid with Mattia Di Pierro, a fellow young storyteller from Raccontamiunastoria.