Adult Audience Performance
Asian Premiere:
Gilgamesh
David Novak

(USA)
Sat, 22 June 2019
8:00 – 9:15pm (No Intermission)
Play Den, The Arts House (Map)
$25
Recommended for adult audiences ages 16 and above. No admission below 15 years.
"I will rebuild the temple and the scribes will write my story. In five thousand years it will still be a good story." So says the Sumerian king, Gilgamesh, in this theatrical retelling of this ancient epic.
An epic story with something for everyone – a steamy seduction, a heroic monster-slaying, a terrifying battle with heaven, and a grief-stricken hero's quest. Gilgamesh was originally spoken, and although it is the first written epic, for thousands of years it was a great telling experience. David Novak makes Gilgamesh a dynamic, living story that speaks to our time.
Five thousand years later, the story stands as history's earliest written epic, and a pattern for all great stories that follow. And, in the hands of a master storyteller, it still is a good story.
"David Novak is a gifted teller who enhances his stories with a bag of tricks." – Smithsonian Magazine

"David Novak is an on-stage wizard, spinning his tales with wild creativity, intelligence, and wit." – Rapid River Magazine

"David Novak's telling of Gilgamesh was a gorgeous combination of storytelling, theatre and sharing of thoughts about the nature of human existence woven together with the ease of a master performer." – Regina Ress (Provincetown Playhouse, New York)
Notes
Photography & Video Recording Rules:
Unauthorised video and audio recording is not permitted for this event.
Photography without flash and without disrupting the artists/event is permitted within reason.
Admittance Rules:
All patrons are required to purchase tickets for admission.
Admission is subject to proof of tickets purchased.
Latecomers advisory: All latecomers must wait for suitable cue for seating.
No refunds, no exchange of tickets.
David Novak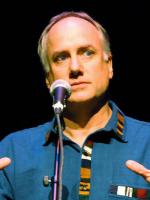 David Novak is Founder and Artistic Director of A Telling Experience. An internationally touring storyteller he is a veteran of the National Storytelling Festival, USA. He was on the opening team of The Disney Institute as Director of Story Arts and is a faculty member of the Storytelling Program at East Tennessee State University. David keynotes for numerous library and educational conferences, including the Sydney International Storytelling Conference, Czech Children's Theatre Festival and American Alliance for Theatre in Education. He has also toured for the Lincoln Center Institute and the LA Music Center. David is recipient of the Circle of Excellence for storytelling, and the Aurand Harris Memorial Playwriting Award for excellence in professional theatre for children. He is an A+ Fellow for the North Carolina Arts Council and a Teaching Artist for the Wolf Trap Institute.
With a background in theatre, he applies his skills as a writer, performer and teaching artist to the development of public discourse, community building and education. Over 30 years of practice, David developed a unique style of narrative combinatorics. A master of literary collage, he contrasts the familiar with the surprising, simplicity with complexity and the ordinary with the fabulous.
Highly prized for his ability to bring ancient tales, classic myths, and original stories to life and enthral audiences of all ages, he is in demand for his school presentations, stage plays, keynotes, and workshops.
An animated and innovative storyteller, David has been described as "The Brothers Grimm and Carl Jung meet Monty Python."

"A gifted teller who enhances his stories with a bag of tricks." – Smithsonian Magazine
Acknowledgements & Credits:
National Storytelling Network
This program has been made possible in part through the sponsorship of the National Storytelling Network.

Mid Atlantic Arts Foundation
This engagement is supported by Mid Atlantic Arts Foundation through USArtists International in partnership with the National Endowment for the Arts and the Andrew W. Mellon Foundation.