Workshop
Leadership and Storytelling
Dr. Edmund Chow

(Singapore)
Fri, 21 June 2019
2:00 – 4:00pm
Living Room, The Arts House (Map)
$20
Adult participants above 18 years.
Charismatic leaders are those who have learned to tell powerful stories to inspire organisations, to build shared histories and identities, and to galvanise communities towards a social or political cause. Yet for many leaders, the narrative approach has been misconstrued as 'mere talk', soft and fluffy words that neither quantify return on investment (ROIs) nor meet performance targets.
In this experiential workshop, participants will understand the elements of narrative, use symbols to tell organisational and personal stories, apply a simple template, and 'perform' to an audience with immediate feedback, so that the perception of one's leadership quality can be better strengthened through linguistic and non-linguistic cues.
Professor Howard Gardner from the Harvard Graduate School of Education writes in Leading Minds: An Anatomy of Leadership that a story is a "basic human cognitive form; the artful creation and articulation of stories constitutes a fundamental part of the leader's vocation" (2011:41). His case studies ranging from Martin Luther King Jr. to Margaret Thatcher, and from Eleanor Roosevelt to Pope John XXIII are examined through the perspective of psychology and emotional resonance. He argues convincingly that storytelling can be a powerful way of re-conceptualising the work of leading.
Recommended:
Corporate Sector, Leadership & Organisations, Educators, Management & Administration Sector
Highlights:
Improvise personal stories using Joseph Campbell's Hero's Journey
Create an organisational story that is used in business schools
Use the Leadership Performance Analysis tool for immediate feedback
Skills:
At the end of this session, participants will be able to:
Understand how organisations and leaders have strategically used stories for various purposes
Implement a narrative template to tell their organisational story
Improvise a personal story to build the identity of a charismatic leader
Deliver stories through public speaking
Receive immediate feedback from the audience using the Leadership Performance Analysis template
Notes
Photography & Video Recording Rules:
Unauthorised video and audio recording is not permitted for this event.
Photography without flash and without disrupting the artists/event is permitted within reason.
Admittance Rules:
All patrons are required to purchase tickets for admission.
Admission is subject to proof of tickets purchased.
Latecomers advisory: All latecomers must wait for suitable cue for seating.
No refunds, no exchange of tickets.
Dr. Edmund Chow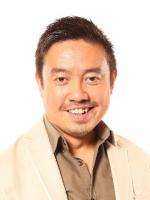 Dr. Edmund Chow has an MA from New York University (2008) and a Ph.D. from the University of Manchester, UK (2016). As an educator and applied theatre practitioner, he has used creativity and imagination in the arts for more than 18 years. Edmund implemented a Prison Theatre and life-skills programme in Kaki Bukit Centre Prison School, and has volunteered on rehabilitation programmes at the Woodbourne Correctional Facilities in New York.
Edmund has taught in secondary schools, prisons, universities and business schools. He completed his Post-Doctoral Fellowship in Leadership and Communication at INSEAD Business School, where he used experiential pedagogies such as storytelling and improvisations to develop a communications and leadership module for MBA and Executive MBA classes across Europe, Singapore, and Middle East campuses. He currently heads the MA Arts Pedagogy & Practice programme at LASALLE.
He was a recipient of the New York University Educational Theatre William Vorenberg Award for Directing in 2007; and was nominated for excellence in academic achievement and leadership with the Pi Lambda Theta Rho Leadership Award by NYU in 2008. Edmund was a finalist at the 3-Minute Thesis Competition at the University of Manchester in 2015.
Edmund has garnered three speaking awards from the Professional Speakers Academy in London, has appeared as an expert guest on Talking Point on Channel News Asia and is a TEDx public speaking coach.