Adult Audience Performance
Make Believe:
The Singapore Showcase
Verena Tay

,

Grace Kalaiselvi

,

Hafiz Rashid

,

Dawn Lau

,

Akshita Nanda

,

Mrigaa Sethi
Sun, 23 June 2019
5:00 – 7:00pm (15 mins Intermission)
Blue Room, The Arts House (Map)
$20
Recommended for adult audiences ages 16 and above. No admission below 15 years.
Featuring Singapore based storytellers and spoken word artists.
We are surrounded by the sea and what lies beneath and beyond. Nagas and sea queens once ruled the waves upon which princes from afar sailed to Singapura. The sea brought stories to our shores together with omnipotent gods and goddesses. And the wise banyan spread her roots and branches. Listen! Do you hear the old tales calling?
The Holy Banyan
By Verena Tay
This origin tale of the beringin or banyan tree has its roots in Javanese folklore. A tale of royal succession, betrayal, exile and everlasting love that reveals the sacred beauty within the mighty banyan tree.
Goddess of the Sea
By Grace Kalaiselvi
Steeped in jealousy and black magic, this folktale from Sunda pays homage to the goddess beneath the waves. Dewi Kadita is revered by fisherfolk and is appeased annually in a ritual asking for calm waters and a bountiful catch.
Syair Sinyor Kosta
By Hafiz Rashid
The tale of Senor Costa's affections for the concubine of another man is rife with trysts, love potions, drunken stupors, naval skirmish and grief. This lesser known tale of love is set in the Nusantara region when nagas ruled the seas.
Daulat
By Dawn Lau
Sang Nila Utama's marriage to Demang Lebar Daun's daughter brokered a covenant between king and countrymen. He went on to Singapura where three generations prospered until the fourth Raja betrayed his people.
Shiva & Shakti
By Akshita Nanda
During the dawn of creation Shiva was known to hold the venomous poison in his throat to save the universe. Then came a time when all the gods failed and only the female power of Shakti could defeat a terrorising demon.
Krishna's Unusual Adventures
By Mrigaa Sethi
It is said that Krishna's mother saw the entire universe in her son's mouth. It is said that he was once rescued by a naga. It is said that Radha's love for him is everlasting. A bouquet of stories from Krishna's youth.
Notes
Photography & Video Recording Rules:
Unauthorised video and audio recording is not permitted for this event.
Photography without flash and without disrupting the artists/event is permitted within reason.
Admittance Rules:
All patrons are required to purchase tickets for admission.
Admission is subject to proof of tickets purchased.
Latecomers advisory: All latecomers must wait for suitable cue for seating.
No refunds, no exchange of tickets.
Verena Tay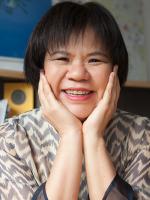 A seasoned storyteller and theatre practitioner, Verena Tay has delighted audiences in Singapore, Scandinavia, Australia, the US, Wales and Malaysia with her unique way of bringing stories vocally and physically alive. She is driven to make traditional myths and legends relevant for people today through her storytelling and personal writing. As a writer, Verena has published two volumes of short stories and four collections of plays. She also has edited twelve story anthologies, including the popular 'Balik Kampung' series published by Math Paper Press. An Honorary Fellow at the International Writing Program, University of Iowa, she holds three Masters degrees in English Literature, Voice Studies and Creative Writing. Currently, she is writing her first novel as part of her PhD studies in Creative Writing with Swansea University.
Grace Kalaiselvi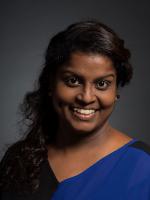 Grace graduated from Intercultural Theatre Institute (ITI) in 2014. She dabbles in acting, creating, directing, educating, making puppets & masks, storytelling and writing in different combinations for stage. Some of her own works include Mother I: Amma Naan: Ibu Aku (1), Mother I (2), Ulagam Pore Pohke Paaru 1 & 2 (See How the World Goes), Olee-Lights to The World and Meera's Adventure series. Commissioned works include The Old Fogies (OctoBurst'19 – Esplanade) and Stories & Songs from the Bow (Feed Your Imagination'17 – Esplanade). She has also acted in Precise Purpose of Being Broken (Koh Wan Ching for M1SFF'19 & Esplanade's Studio Series'17), Into the Blue Forest (100 & 100 more Festival by The Artground) and 0600 (SIFA'18 by GroundZ-0). She is a regular storyteller for Singapore Writers' Festival and Esplanade's PIP's Playbox.
Hafiz Rashid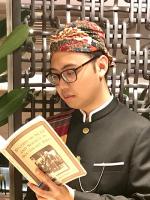 Hafiz has been volunteering at the Malay Heritage Centre (MHC) as a museum docent for more than five years. As a trained docent, he has conducted tours of MHC's permanent and special exhibitions for members of the public, school groups, tourists as well as various community groups and he regularly receives commendations from visitors. He is interested in learning about the history, culture, folklore and languages of the Malay Archipelago (Nusantara) and uncovering their hidden stories. It is these unique stories that he shares when conducting his tours; the stories behind motifs, cultural practices, daily utterances – stories with deep links to the past. He is currently a library officer with the National Library Board at Marine Parade Public Library and hopes to continue sharing stories from the Nusantara with the library patrons.
Dawn Lau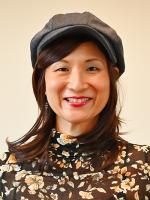 In search of her inner creative, Dawn began her foray into the performative space in 2014 with 'Ways of Wandering', a programme of the O.P.E.N., a public engagement initiative by the Singapore International Festival of the Arts. Since then, she has been actively participating in creative writing, movement, voice, storytelling, improv, and spoken word workshops, seeking out opportunities to perform whenever possible. She is passionate about storytelling for its power to give voice to the shared human experience through myths, folktales and legends. Dawn recently performed at 'Stories for Grown Ups' with Moonshadow Stories at the NLB. To explore alternative storytelling methods, she has also participated in Body Poetry and Spoken Word performances, following workshops with Deborah Emmanuel and Shivram Gopinath, at Haque Centre for Acting and Creativity.
Akshita Nanda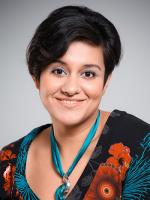 Akshita Nanda was born in Pune, India in 1979 and has lived in Singapore since 1995. She has a BSc (Hons) from the National University of Singapore and knows what to do with radioactive viruses. She spent her childhood listening to stories and now she tells stories as a journalist and novelist. Her first novel, Nimita's Place, was shortlisted for the 2017 Epigram Books Fiction Prize. Her second novel Beauty Queens of Bishan will be published by Penguin Random House end of 2019. She is writer-in-focus for the 2019 edition of the influential Writers Lab organised by Theatreworks. She has been in publishing since 2002 and joined The Straits Times in 2007, where she currently writes about the arts. Akshita is pursuing a Master's degree in Education from the University of the People.
Mrigaa Sethi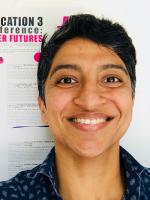 Mrigaa Sethi was born in Delhi and raised in Bangkok. She received an MFA in poetry from New York University and, after a circuitous string of jobs in higher education and food writing, now lives in Singapore. Formerly the managing editor of SG Magazine, she currently serves as chief sub-editor at travel media publisher Ink. Her poems have appeared in Mackerel, Seneca Review, ep;phany, The Bangkok Post and Folio, and she has performed at the Singapore Night Festival, Other Tongues Minority Voices Festival, Telling Stories Live, the Kundiman Reading Series, the Asian American Writers Workshop Reading Series, among other literary stages.