Exhibition
Pharmacopeias for Accredited Agents of Poisoning
Zarina Muhammad

(Singapore)
21 – 23 June 2019
11:00am – 8:00pm
Gallery II, The Arts House (Map)
Free
Recommended for audiences above 10 years old. All children must be accompanied by an adult.
Advisory (Some Mature Content)
The exhibition takes its title from John Gimlette's 1915 text 'Malay Poisons and Charm Cures' where he writes, "Malay women are generally held to be the accredited agents, at any rate, in many cases of poisoning, because naturally the cooking is left almost entirely to them." Composed from speculative histories, embodied experiences, folkloric narratives and shapeshifting conjectures, this installation speaks of and to the mythologies and cultural histories of women standing between life and death, fate and agency, healing and killing, magic and mayhem, the monstrous and the murderous. Through revisiting myths of women from and beyond the Nusantara, this work intends to respond to and problematise the tropes and archetypal representations of certain gendered bewitching and bewitched non-conforming bodies that have been demonised and (dis)enchanted through time.
Mixed media.
Dimensions variable.
Notes
Photography & Video Recording Rules:
Unauthorised video and audio recording is not permitted for this event.
Photography without flash and without disrupting the artists/event is permitted within reason.
Admittance Rules:
All patrons are required to register for admission.
Zarina Muhammad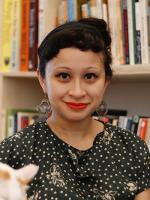 Zarina Muhammad is an arts practitioner, educator and independent researcher based in Singapore. She lectures mostly on contextual studies and art/critical theory with a focus on the cultural histories of Southeast Asia at LASALLE. Currently, Zarina is working on an ongoing multidisciplinary research and performance project on cultural translations pertaining to Southeast Asian ritual magic, sacred sites and the tracing of mythological roots of the feared, desired and revered (supernatural) body across the region.
Her series of often collaborative and performance-based works deconstruct and aim to confront histories, texts, definitions, and (mis)representations associated with these bodies of knowledge and polycosmologies. In the various incarnations of her work, she is particularly interested in the broader contexts of myth-making, gender-based archetypes and the region's tenuous shape-shifting relationship to mysticism and the immaterial against the dynamics of global modernity.
In 2018, she was nominated as one of the President's Young Talents and exhibited her work 'Pragmatic Prayers for the Kala at the Threshold' at the Singapore Art Museum. In addition to performing at Institute of Contemporary Art Singapore (ICAS), NTU Centre of Contemporary Art (CCA), The Substation and Objectifs Centre for Photography and Film, she has also presented her work in Indonesia, Cambodia, Japan, Hong Kong, Malaysia, Thailand, Taiwan and Australia.