Adult Audience Performance
Asian Premiere:
Reflecting Fridas
The Life of Frida Kahlo
Ana Maria Lines

(Brazil)
Fri, 21 June 2019
8:00 – 9:15pm (No Intermission)
Play Den, The Arts House (Map)
$25
Recommended for adult audiences ages 16 and above. No admission below 15 years.
Frida Kahlo's soul echoes in many of us. Her diversities, love, injuries and suffering were the subject of her artworks. An exceptional woman with a unique life. Her art and her life inspired Brazilian storyteller Ana Maria Lines to develop this solo show. As if putting brush strokes on a canvas, Ana Lines paints the colourful and dramatic life of Mexican artist Frida Kahlo with all its highlights and shadows. An invitation, like Frida's self-portraits, through a doorway into her home, life, heart and soul.
Reflecting Fridas is a show written and created by Ana Maria Lines based on research about Frida Kahlo's life .The performance was originally created for the Festival of Dreams, in Scotland, which reunited Latin American storytellers. Part of the research was done in Mexico City. Ana had the opportunity to visit places related to Frida's life and to interview artists and local people about Mexican traditions and culture.
First performed at the Scottish International Storytelling Festival 2016 and again in 2017, the show has traveled to Festival at The Edge and Settle Stories Festival in UK.
"Ana Lines does more than tell stories, she animates them through her performances. Her Frida Kahlo biography, intertwined with inter-generational tales, was spun so enchantingly that I didn't want to be released from the spell". – Paula Wakefield (audience member)

"Ana Lines' one-woman Frida Kahlo show is a tour de force. Everything works, from her charming storytelling style to the brilliant narrative structure of the show which allows her to interweave 3 folktales into Frida's extraordinary life story. A great deal of research and rehearsal must have taken place to produce such a seemingly effortless piece. Estupendo." – Candi Miller (Writer and Lecturer at Wolverhampton University)
Notes
Photography & Video Recording Rules:
Unauthorised video and audio recording is not permitted for this event.
Photography without flash and without disrupting the artists/event is permitted within reason.
Admittance Rules:
All patrons are required to purchase tickets for admission.
Admission is subject to proof of tickets purchased.
Latecomers advisory: All latecomers must wait for suitable cue for seating.
No refunds, no exchange of tickets.
Ana Maria Lines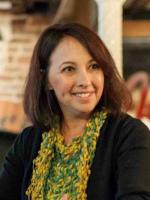 Ana Maria Lines is a storyteller, researcher and workshop leader with an international reputation, vast repertoire and captivating style. She was born in São Paulo, Brazil and grew up in a multicultural environment surrounded by stories, myths and traditions. She has developed her unique storytelling style by observing tribes and their relationship with traditional stories, dance and music. Through this enriching background and a vast repertoire of South American tales she is comfortable sharing Brazilian mythology as well as adaptations of real life stories.
She studied Social Communication, Journalism and Marketing and as a journalist she worked for radio stations, newspapers and magazines while in Brazil. To foster the exchange of personal and traditional stories in the various communities she visited, she developed projects on storytelling and reading. As a trainer in the corporate sector, she used storytelling techniques to encourage motivation, creativity, memory and building relationships between groups.
Ana moved to England in 2007 and is the organiser of the Stafford Knot Storytelling Club. She performs regularly in storytelling clubs, schools and arts festivals. Renowned for her performance Barbecued Husbands and her one woman show Reflecting Fridas, she has captivated audiences with the myths of Brazilian indigenous tribes and the life story of Mexican artist Frida Kahlo. She conducts storytelling workshops and applies storytelling in community projects and health organisations. Representing Brazil and England, she has performed in international festival in Mexico, Cuba, Spain, Italy, Scotland and England.