Workshop
Reflections:
Storytelling through Memories
Ana Maria Lines

(Brazil)
Sat, 22 June 2019
2:00 – 4:00pm
Chamber, The Arts House (Map)
$20
Adult participants above 18 years.
Explore how to write and tell a story from your life. Our lives are puzzles made up of thousands of moments. Using a personal photo that is important to you, be transported back to one special moment in your life. Your story matters, it is your identity. Take a trip down memory lane and experiment with different storytelling techniques to express your life through the creative arts. Relive your story through old photographs.
Recommended:
Educators, Counselling & Therapy, Storytellers & Spoken Word Practitioners, Performance Artistes, Corporate Sector, Leadership & Organisations, Writers
Highlights:
Reflect on past memories
Recall a special or unique moment in your life
Discover different storytelling techniques
Create a new story based on your life experience
Use photographs as creative stimuli
Skills:
At the end of this session, participants will be able to:
Apply simple storytelling methods to create a story
Use personal memories as a stimulus to create a story
Use memory techniques to recall past stories
Learn methods on collecting personal stories from family members and loved ones
Understand strategies of self-expression through the creative arts
Apply basic skills to write a new story based on a personal memory (photographs)
Preparation:
Please bring along a few old photographs (or images) of past experiences or moments in your life.
Notes
Photography & Video Recording Rules:
Unauthorised video and audio recording is not permitted for this event.
Photography without flash and without disrupting the artists/event is permitted within reason.
Admittance Rules:
All patrons are required to purchase tickets for admission.
Admission is subject to proof of tickets purchased.
Latecomers advisory: All latecomers must wait for suitable cue for seating.
No refunds, no exchange of tickets.
Ana Maria Lines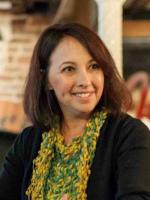 Ana Maria Lines is a storyteller, researcher and workshop leader with an international reputation, vast repertoire and captivating style. She was born in São Paulo, Brazil and grew up in a multicultural environment surrounded by stories, myths and traditions. She has developed her unique storytelling style by observing tribes and their relationship with traditional stories, dance and music. Through this enriching background and a vast repertoire of South American tales she is comfortable sharing Brazilian mythology as well as adaptations of real life stories.
She studied Social Communication, Journalism and Marketing and as a journalist she worked for radio stations, newspapers and magazines while in Brazil. To foster the exchange of personal and traditional stories in the various communities she visited, she developed projects on storytelling and reading. As a trainer in the corporate sector, she used storytelling techniques to encourage motivation, creativity, memory and building relationships between groups.
Ana moved to England in 2007 and is the organiser of the Stafford Knot Storytelling Club. She performs regularly in storytelling clubs, schools and arts festivals. Renowned for her performance Barbecued Husbands and her one woman show Reflecting Fridas, she has captivated audiences with the myths of Brazilian indigenous tribes and the life story of Mexican artist Frida Kahlo. She conducts storytelling workshops and applies storytelling in community projects and health organisations. Representing Brazil and England, she has performed in international festival in Mexico, Cuba, Spain, Italy, Scotland and England.