Masterclass
Tell Me About It:
Storytelling as a Teaching Strategy
David Novak

(USA)
Fri, 21 June 2019
10:00am – 5:00pm (1-hr lunch break, lunch not provided)
Blue Room, The Arts House (Map)
$200
Adult participants above 18 years.
This master class presents theory and practice in the telling of stories as it applies to classroom learning and assessment. Participants will engage with activities drawn from storytelling practice for the purpose of tallying information, inductive thinking, language development and strengthened memory. This workshop presents storytelling as a learning tool that can be variously applied.
Recommended:
Parents & Caregivers, Teachers & Educators: Learning, Teaching & Curriculum, Counselling & Therapy, Librarians, Storytellers & Spoken Word Practitioners
Areas Addressed:
Story measurement by chunking a story along a rope used as a 'story line'
'Show-and-Tell' prop play with simple objects
Creating books without words employing oral traditional memory techniques
Using story swaps as a pre-writing exercise
Highlights:
Act-out, speak-out and report-out stories
Listen to new stories told
Tying our shoestrings!
Skills:
At the end of this session, participants will be able to:
Directly apply activities in their classrooms
Effectively incorporate storytelling exercises into existing curriculum
Creatively assess student comprehension
Develop students speaking and listening skills
Develop lesson plans based on story structure
Methodology:
This program takes as its premise the following:
Memory is strengthened with Oral Language practice
Narrative thinking aides comprehension
Storytelling allows active assessment of student engagement
Telling stories integrates knowledge and understanding into learning
Storytelling and tallying enhances numeracy skills
Storytelling enhances pattern recognition, problem-solving, and empathy
Notes
Photography & Video Recording Rules:
Unauthorised video and audio recording is not permitted for this event.
Photography without flash and without disrupting the artists/event is permitted within reason.
Admittance Rules:
All patrons are required to purchase tickets for admission.
Admission is subject to proof of tickets purchased.
Latecomers advisory: All latecomers must wait for suitable cue for seating.
No refunds, no exchange of tickets.
David Novak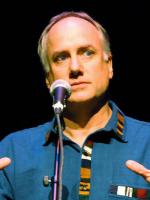 David Novak is Founder and Artistic Director of A Telling Experience. An internationally touring storyteller he is a veteran of the National Storytelling Festival, USA. He was on the opening team of The Disney Institute as Director of Story Arts and is a faculty member of the Storytelling Program at East Tennessee State University. David keynotes for numerous library and educational conferences, including the Sydney International Storytelling Conference, Czech Children's Theatre Festival and American Alliance for Theatre in Education. He has also toured for the Lincoln Center Institute and the LA Music Center. David is recipient of the Circle of Excellence for storytelling, and the Aurand Harris Memorial Playwriting Award for excellence in professional theatre for children. He is an A+ Fellow for the North Carolina Arts Council and a Teaching Artist for the Wolf Trap Institute.
With a background in theatre, he applies his skills as a writer, performer and teaching artist to the development of public discourse, community building and education. Over 30 years of practice, David developed a unique style of narrative combinatorics. A master of literary collage, he contrasts the familiar with the surprising, simplicity with complexity and the ordinary with the fabulous.
Highly prized for his ability to bring ancient tales, classic myths, and original stories to life and enthral audiences of all ages, he is in demand for his school presentations, stage plays, keynotes, and workshops.
An animated and innovative storyteller, David has been described as "The Brothers Grimm and Carl Jung meet Monty Python."

"A gifted teller who enhances his stories with a bag of tricks." – Smithsonian Magazine
Acknowledgements & Credits:
National Storytelling Network
This program has been made possible in part through the sponsorship of the National Storytelling Network.

Mid Atlantic Arts Foundation
This engagement is supported by Mid Atlantic Arts Foundation through USArtists International in partnership with the National Endowment for the Arts and the Andrew W. Mellon Foundation.