Presentation
The Journey of a Young Storyteller
Martina Pisciali

(Italy)
Fri, 21 June 2019
5:30 – 6:30pm
Living Room, The Arts House (Map)
Free
Adult participants above 15 years.
How does one embark upon a journey of becoming of storyteller? Martina Pisciali is a young storyteller from Italy who has toured internationally and received training and guidance under mentorship of established storytellers. She shares her background with us through a presentation of the European young storytellers' scene; the process of researching and retelling Italian folktales; and her area of speciality in nature and plant storytelling. She will also share her experiences in Dubai, UAE and the role of storytelling in fostering and encouraging cultural understanding.
Recommended:
Students, Emerging Artists, Educators, Storytellers & Spoken Word Practitioners, Writers, Performance Artistes, Youth Workers
Notes
Photography & Video Recording Rules:
Unauthorised video and audio recording is not permitted for this event.
Photography without flash and without disrupting the artists/event is permitted within reason.
Admittance Rules:
All patrons are required to register for admission.
Martina Pisciali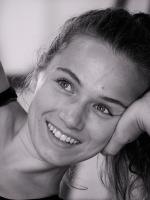 Martina Pisciali is a young storyteller and is the apprentice of Paola Balbi and Davide Bardi from Raccontamiunastoria in Italy. Through her mentorship she began to perform regularly at 'Raccontamiunastoria – International Storytelling Festival in Rome' and at 'Storytelling Time/Es war Einmal – International Storytelling Festival Bolzano'.
Her repertoire represents traditional Italian tales as well as folklore from her native mountains, the Dolomites region. She also tells Greek and Roman myths, and global folktales with a focus on the Middle East and the Mediterranean. Her postgraduate degree in Agricultural Sciences resulted in a penchant for stories about nature and magic. Fluent in English, Italian and German, she is also a story translator for bilingual performances.
Recently she has expanded her experience by spending several months each year in the United Arab Emirates working both as performer and as assistant to the festival directors of 'Tales on the Island – The International Storytelling Festival in Sharjah'.
She is co-founder of Storytelling Torino and has been organising the monthly Storytelling Café in Piedmont since 2013. Last year she co-designed a storytelling radio programme for RAI (National Radio and Television). She is currently working on two projects – a performance together with accordion player Tommaso Zamboni, inspired by the refugee crisis on the Balkan Route; and a show about a side-story of the Aeneid with Mattia Di Pierro, a fellow young storyteller from Raccontamiunastoria.