Masterclass
The Storyteller's Compass:
Storytelling as a Tool for Creative Communication
David Novak

(USA)
Mon, 24 June 2019
10:00am – 5:00pm (1-hr lunch break, lunch not provided)
Blue Room, The Arts House (Map)
$200
Adult participants above 18 years

A lively process-based master class filled with creative games and stimulating discussion. The Storytellers' Compass is an exercise in discernment, interpretation, selection and composition. Using guided conversation, participants create story mosaics, tracing lines of relationship within and among those stories. New stories and new combinations of stories are discovered and arranged into compelling sets for use in solo and group storytelling conversation, composition and performance.
Recommended:
Parents & Caregivers, Teachers & Educators: Learning, Teaching & Curriculum, Secondary school, Tertiary education, Counselling & Therapy, Librarians, Storytellers & Spoken Word Practitioners, Performance Artistes, Corporate Sector, Leadership & Organisations
Areas Addressed:
Connections between unrelated ideas
Memory prompts to recall dormant stories
Tracking conversations
The role of conversations in reclaiming memory
Establishing commonalities between stories
Insights gained when traditional stories are combined with personal memories
Story actions to tell a story
Using story bouquets to sequence
Story swap between participants
Application of concepts in your work
Paul Grice's conversational maxims – relevance, quality and quantity
Highlights:
Have fun playing creativity games with simple objects and ideas
Learn to explore memory and share stories
Make new friends and associates by discovering our deep common ground
Hear and tell a variety of stories in compelling and entertaining ways
Skills:
At the end of this session, participants will be able to:
Recall and find stories to develop
Effectively compose stories
Creatively interpret stories
Make effective story choices in conversation with others
Thematically organise stories
Methodology:
This master class takes as its premise the following:
Storytelling is a conversational art form
The storyteller's art begins with listening
The goal of the storyteller is to choose the right story at the right time for the right reasons. Storytellers must be concerned not only with the story they share but with the context of that sharing.
Each of us is a living body-of-stories
Stories can be better understood when they are placed beside other stories. All stories change value when put in relationship with other stories.
To tell means to discern. Discernment makes the art of telling distinct from other story art forms. We practice discernment when choosing stories to share and by bringing forth latent values in those stories.
Notes
Photography & Video Recording Rules:
Unauthorised video and audio recording is not permitted for this event.
Photography without flash and without disrupting the artists/event is permitted within reason.
Admittance Rules:
All patrons are required to purchase tickets for admission.
Admission is subject to proof of tickets purchased.
Latecomers advisory: All latecomers must wait for suitable cue for seating.
No refunds, no exchange of tickets.
David Novak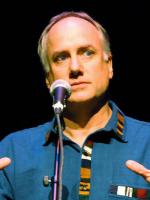 David Novak is Founder and Artistic Director of A Telling Experience. An internationally touring storyteller he is a veteran of the National Storytelling Festival, USA. He was on the opening team of The Disney Institute as Director of Story Arts and is a faculty member of the Storytelling Program at East Tennessee State University. David keynotes for numerous library and educational conferences, including the Sydney International Storytelling Conference, Czech Children's Theatre Festival and American Alliance for Theatre in Education. He has also toured for the Lincoln Center Institute and the LA Music Center. David is recipient of the Circle of Excellence for storytelling, and the Aurand Harris Memorial Playwriting Award for excellence in professional theatre for children. He is an A+ Fellow for the North Carolina Arts Council and a Teaching Artist for the Wolf Trap Institute.
With a background in theatre, he applies his skills as a writer, performer and teaching artist to the development of public discourse, community building and education. Over 30 years of practice, David developed a unique style of narrative combinatorics. A master of literary collage, he contrasts the familiar with the surprising, simplicity with complexity and the ordinary with the fabulous.
Highly prized for his ability to bring ancient tales, classic myths, and original stories to life and enthral audiences of all ages, he is in demand for his school presentations, stage plays, keynotes, and workshops.
An animated and innovative storyteller, David has been described as "The Brothers Grimm and Carl Jung meet Monty Python."

"A gifted teller who enhances his stories with a bag of tricks." – Smithsonian Magazine
Acknowledgements & Credits:
National Storytelling Network
This program has been made possible in part through the sponsorship of the National Storytelling Network.

Mid Atlantic Arts Foundation
This engagement is supported by Mid Atlantic Arts Foundation through USArtists International in partnership with the National Endowment for the Arts and the Andrew W. Mellon Foundation.