Family Audience Performance
This Tale, That Tail!
Daniel Allison

(Scotland)
Sun, 23 June 2019
4:00 – 5:00pm (No Intermission)
Play Den, The Arts House (Map)
$15
Recommended for family audiences ages 5 and above. No admission for babies and children below 3 years.
Let's go on a journey to the end of the world and back! On the way we'll meet leopards and lions, chickens and cheetahs; we'll have lunch with the King of Scotland and sing songs with scruffy ponies. Featuring didgeridoo music and more adventure and surprises than you can shake a snake at. A musical storytelling experience for the whole family.
Notes
Photography & Video Recording Rules:
Unauthorised video and audio recording is not permitted for this event.
Photography without flash and without disrupting the artists/event is permitted within reason.
Admittance Rules:
All patrons are required to purchase tickets for admission.
Admission is subject to proof of tickets purchased.
Latecomers advisory: All latecomers must wait for suitable cue for seating.
No refunds, no exchange of tickets.
All adults and children are required to purchase tickets for admission.
All children must be accompanied by an adult throughout the programme.
Daniel Allison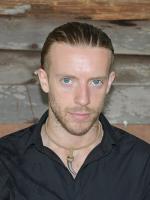 Daniel Allison is a storyteller and author. Known for his evocative style and lyrical language, he has performed at countless schools, venues and campfires across the UK as well as in the USA, Portugal, Turkey, the UAE and India. His performances bring together Celtic legends with stories from the many diverse cultures he has explored and are woven together with spellbinding didgeridoo music.
A fascination with the ancient Celtic bards has led Daniel to walk coast-to-coast across Scotland twice, camping in the hills by night and sharing stories by day, in order to understand better the life of a travelling storyteller.
Daniel is a regular performer at the Scottish Storytelling Centre in Edinburgh, where he has debuted performances including The Wilderness Within, a reimagining of the life of the naturalist John Muir; The Missing Lynx, a sell-out exploration of re-wilding through storytelling; and the sell-out Dark Tales, a strictly-for-adults evening of horror stories from around the world.
Daniel is the author of the forthcoming collection 'Finn and the Fianna: Celtic Legends Retold', a new retelling of the Finn MacCoull stories, available from the History Press in 2020. He is currently at work on a series of children's novels set in prehistoric Scotland while creating a storytelling podcast and training full-time to be a Muay Thai fighter.