Workshop
Transforming Tales:
Adapting Ancient Tales for Today's Audience
Daniel Allison

(Scotland)
Sat, 22 June 2019
11:00am – 1:00pm
Blue Room, The Arts House (Map)
$20
Adult participants above 18 years.
How do you adapt ancient stories for performance or fiction writing? Author and storyteller Daniel Allison has spent many years writing fiction inspired by oral stories while using his practice as a writer to shape his storytelling. Using his novel 'The Bone Flute' as a case study, he will share techniques and lead discussions on various aspects of the adaptation process. He will also refer to stories from the Celtic and European traditions. Participants will come away equipped with new ways to get under the skin of a story and make it their own.
Recommended:
Educators, Storytellers & Spoken Word Practitioners, Writers, Performance Artistes
Highlights:
Use automatic writing and active imagination to unlock the power of the subconscious
Listen to Daniel read from 'The Bone Flute', 'Finn & The Fianna' and give short performances drawn from the stories he works closely with
Skills:
At the end of this session, participants will be able to:
Identify the ethical questions involved in adapting stories
Navigate changes made to oral stories by researchers and collectors
Understand our characters and settings more deeply
Discover combining, cutting and adding to oral stories
Apply literary techniques (mood, motivation, selective detail) to oral storytelling
Adapt oral stories for use in fiction writing
Preparation:
Please bring a story you would like to work with.
Notes
Photography & Video Recording Rules:
Unauthorised video and audio recording is not permitted for this event.
Photography without flash and without disrupting the artists/event is permitted within reason.
Admittance Rules:
All patrons are required to purchase tickets for admission.
Admission is subject to proof of tickets purchased.
Latecomers advisory: All latecomers must wait for suitable cue for seating.
No refunds, no exchange of tickets.
Daniel Allison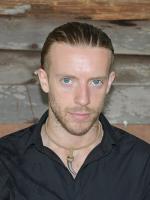 Daniel Allison is a storyteller and author. Known for his evocative style and lyrical language, he has performed at countless schools, venues and campfires across the UK as well as in the USA, Portugal, Turkey, the UAE and India. His performances bring together Celtic legends with stories from the many diverse cultures he has explored and are woven together with spellbinding didgeridoo music.
A fascination with the ancient Celtic bards has led Daniel to walk coast-to-coast across Scotland twice, camping in the hills by night and sharing stories by day, in order to understand better the life of a travelling storyteller.
Daniel is a regular performer at the Scottish Storytelling Centre in Edinburgh, where he has debuted performances including The Wilderness Within, a reimagining of the life of the naturalist John Muir; The Missing Lynx, a sell-out exploration of re-wilding through storytelling; and the sell-out Dark Tales, a strictly-for-adults evening of horror stories from around the world.
Daniel is the author of the forthcoming collection 'Finn and the Fianna: Celtic Legends Retold', a new retelling of the Finn MacCoull stories, available from the History Press in 2020. He is currently at work on a series of children's novels set in prehistoric Scotland while creating a storytelling podcast and training full-time to be a Muay Thai fighter.