A Puppeteer's Journey
Frankie Malachi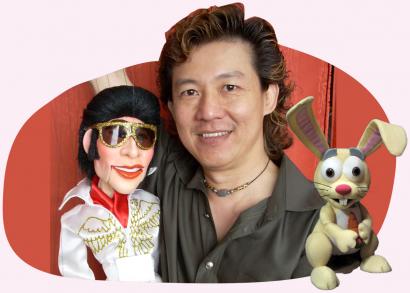 Watch Now!
Catch this for free from now till 27 July
Your Feedback
Step into the world of puppetry inside Frankie Malachi's virtual puppet studio! With magical and delightful puppets on display, ranging from string puppets, to marionettes and ventriloquist puppets, this online video interview will tell you more about Frankie's puppet making practice. Get a glimpse of some of his oldest and favourite puppets that have been with him for close to 30 years. Meet some unfinished puppets and moulds used to make them. Come and join creative producer Kamini Ramachandran as she chats with Frankie Malachi to experience the magic of puppets!
Frankie Malachi is a professional puppeteer based in Singapore, and the founder and creative director of Mascots and Puppets Specialists, a company that produces and choreographs puppets for television, theatre, media, government bodies and many other institutions.
A sought-after international performer, Frankie has brought his unique brand of puppetry to places like Turkey, Poland, Vietnam, South Africa, Palestine, Taiwan and Thailand. His puppetry work was awarded the prize for Best Puppet Design at the Wayang World Puppet Carnival 2013, one of the largest puppetry festivals in the world, amongst participants from 46 countries. He also won top honours at the Second International Marionette Festival 2010 in Hanoi, Vietnam, where he was awarded the Gold Award for Best Performance, the top festival prize, and the Gold Award for Best Artist (Individual Puppeteer). He was also awarded the Special Award for Excellence in Puppet Design at the Festival.
Aside from his achievements internationally, Frankie's puppets and mascot creations have been featured the 28th SEA Games Singapore 2015, various National Day Parades, the Singapore Youth Olympics 2010, as well as numerous theatrical and film productions. 'Broadway Beng 3' and 'The Little Shop of Horrors' are just of a few of these productions. In the latter, his giant puppet Audrey II was later nominated for Best Supporting Actor in the Life! Theatre Awards 2006 – the first time a puppet was nominated in an acting category.
Frankie credits his creative development to puppetry heroes like Jim Henson and Frank Oz, as well as marionette master Phillip Huber of 'Being John Malkovich' fame, with whom he has personally studied. Frankie is considered a pioneer in the use of giant puppets, marionette puppetry, and black-light puppetry in Singapore.