Workshop
Puteri, Ratu, Nenek Kebayan:
Tracing the mythological roots and translations of the feared and revered body in Southeast Asia
Zarina Muhammad

(Singapore)
Sun, 23 June 2019
2:00 – 4:00pm
Gallery II, The Arts House (Map)
$25 (Inclusive of art materials and a sculpture to take home)
Adult participants above 15 years.
Chthonic and sea spirits/deities have played significant roles in the mythologies and cultural histories of Southeast Asia. Nyai Roro Kidul, Rangda, Mazu, Puteri Gunung Ledang are some of the powerful names that have historically been invoked as being notable spirit guardians and otherworldly figures related to the forests, land and seas of this region. In addition, several of these mythic otherworldly beings can also lay claim to a certain involvement and influence in the political and magic-religious histories of their respective lands of belonging. Drawing from the themes of the demonised and desired body, gender archetypes, ritual magic, oral history, goddess worship and the broader contexts of myth-making, this workshop aims to address the question of intergenerational and interregional translation, appropriation, adaptation and metamorphosis of these narratives.
In this workshop, participants, through sharing stories, will be invited to write a letter, pen a poem, create little effigies or sculptural representation based on some of the cover-versions of how these stories have been retold, reimagined and interpreted through time. Where do we begin reflecting on the complexities of oral history/tradition, the act of remembering, the question of ancestral memory, local knowledge and the limits of auto-ethnography? In traversing the varied histories of the perceptible and imperceptible of our respective cultural backgrounds, how do we begin to tell old and new stories on unresolved memory, fragmented cosmologies and the re-mapping of mythologies in a world of multiple and contending modernities?
Recommended:
Educators, Curators, Librarians, Storytellers & Spoken Word Practitioners, Performance Artistes, Culture & Heritage Practitioners
Highlights:
An experiential workshop in art making
Explore creative writing
Create your own sculptures
Share stories through visual representations
Skills:
At the end of this session, participants will be able to:
Decode visual representations – how the immaterial presence of the folkloric, mythic, otherworldly figures have been made visible in contemporary culture
Learn how myth and folklore are reflections of the social, material, political, sacred, spiritual and transcendental realities of this region
Understand the role of myth making in telling us stories about ourselves, the communities we occupy and the worlds we construct.
All art materials will be provided and each participant will bring home their original effigy artwork.
Ritual Performance:
1:30 – 2:00pm at Gallery II, Level 2
Zarina Muhammad will perform a ceremonial ritual linked to her visual storytelling exhibition 'Pharmacopeias for Accredited Agents of Poisoning' before the workshop. Registered workshop participants are invited to attend and observe this ritual.
Notes
Photography & Video Recording Rules:
Unauthorised video and audio recording is not permitted for this event.
Photography without flash and without disrupting the artists/event is permitted within reason.
Admittance Rules:
All patrons are required to purchase tickets for admission.
Admission is subject to proof of tickets purchased.
Latecomers advisory: All latecomers must wait for suitable cue for seating.
No refunds, no exchange of tickets.
Zarina Muhammad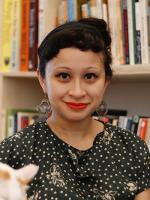 Zarina Muhammad is an arts practitioner, educator and independent researcher based in Singapore. She lectures mostly on contextual studies and art/critical theory with a focus on the cultural histories of Southeast Asia at LASALLE. Currently, Zarina is working on an ongoing multidisciplinary research and performance project on cultural translations pertaining to Southeast Asian ritual magic, sacred sites and the tracing of mythological roots of the feared, desired and revered (supernatural) body across the region.
Her series of often collaborative and performance-based works deconstruct and aim to confront histories, texts, definitions, and (mis)representations associated with these bodies of knowledge and polycosmologies. In the various incarnations of her work, she is particularly interested in the broader contexts of myth-making, gender-based archetypes and the region's tenuous shape-shifting relationship to mysticism and the immaterial against the dynamics of global modernity.
In 2018, she was nominated as one of the President's Young Talents and exhibited her work 'Pragmatic Prayers for the Kala at the Threshold' at the Singapore Art Museum. In addition to performing at Institute of Contemporary Art Singapore (ICAS), NTU Centre of Contemporary Art (CCA), The Substation and Objectifs Centre for Photography and Film, she has also presented her work in Indonesia, Cambodia, Japan, Hong Kong, Malaysia, Thailand, Taiwan and Australia.