22 August – 31 March / Performance
Digital Stories
Story Threads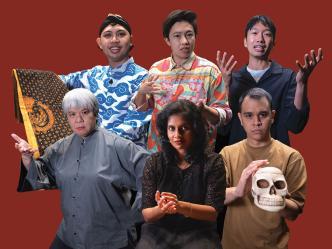 This year, StoryFest reconnects with our local and overseas audiences through both in-person and digital iterations of The Singapore Showcase. Catch our six storytellers tell bite-sized versions of their stories in these videos, specially curated for digital viewing.
Contemplate the modern-day implications of ancient and contemporary folklore as you listen to stories about things seen and unseen. Uncover the virtue of patience with Hafiz and Verena, navigate familial bonds with Daryl and Melizarani, and reexamine the birth of urban legends with Stephanie and Wesley. The Singapore Showcase delves into how we find our way through complex relationships with the world, whether tangible or otherwise.
The Singapore Showcase is a tapestry of six distinct tales performed by captivating word-weavers.
Get caught in the web of tales!
These videos will be available for free on the StoryFest YouTube channel until March 2023.