About StoryFest
Presented by The Storytelling Centre Limited and Arts House Limited, StoryFest is an annual festival that celebrates and showcases a variety of styles, repertoire, and cultural arts presentations of storytelling from Singapore and around the world.
StoryFest 2022 returns with Story Threads, inviting audiences to experience the in-person and invisible connections that bind us through the power of telling and listening to stories.
In its decentralized format, StoryFest 2022 welcomes audiences in Singapore and from around the world to participate in listening to stories told across many months, spanning time zones, and presented through different mediums. This year the Festival pays attention to the durational process of nurturing storytellers and the creation of stories, across time and place.
Much of storytelling relies on the nonverbal signals exchanged between the story, the teller, and the listener. Over the last two years, StoryFest has had to reimagine storytelling, and how to digitally present a tradition that has historically been live, without compromising on its core values.
Be part of a global livestream storytelling exchange as we invert the paradigm so you can listen to children share tales in Bedtime Stories.
Return to physical space and attend live storytelling performances at the Play Den theatre and be regaled by The Singapore Showcase.
Choose when you want to suspend disbelief and enter the realm of folklore at your convenience by sampling our high-quality Digital Stories videos.
Learn about the many facets of storytelling and hear true stories and insights from seasoned practitioners in our Story Talk interview series.
In a tumultuous period of global upheaval, all of us have had to question our existing ideas about what it means to meaningfully engage with one another. Whether it was virtual or physical, we reinvented old ways of forming community, and found new ways to sustain ourselves, even in the face of seemingly insurmountable isolation. After two successful online festivals, we harnessed our skills and present Story Threads, to continue creating connections.
2021 : ReStory 2020 : The Heart of Story 2019 : Make Believe 2018 : Be Legendary 2017 : Stories for Change About StoryFest
Festival Organiser
The Storytelling Centre Limited is a non-profit organisation based in Singapore. Our core mission is to foster and advance the art of storytelling through performances, collaborations, artistic exchanges, mentorships, training and community outreach.
The Storytelling Centre Limited firmly believes that stories are storehouses of Singapore's unique multidimensional legacy. The oral traditions of folktales, mythology, legends and fables are avenues for preserving, showcasing and developing Singapore's rich and diverse heritage. Our focus is on ensuring the sustainability of the art form by nurturing emerging Young Storytellers.
Flagship Programmes:
The StoryFest 2022 Team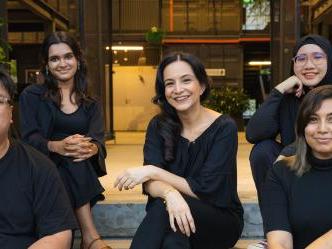 Kamini Ramachandran
Creative Producer
A pioneer in the field of storytelling in Asia, Kamini is a fellow of the Royal Society of Arts with a Bachelor's degree in English Language & Literature (Hons) from the University of Reading (UK) and a Master's degree in Arts Pedagogy & Practice from Goldsmith's, University of London (UK).
A respected artist educator Kamini is a specialist storytelling lecturer for tertiary level programmes. She founded the non-profit organisation The Storytelling Centre Limited to advance the art of storytelling. She is passionate about the nurturing of emerging artists and established the Young Storytellers Mentorship Programme.
She is the creative force behind MoonShadow Stories, which spearheaded performance storytelling for adult audiences in Singapore and has produced World Storytelling Day in Singapore since 2005.
She has been featured at international festivals in Europe, Australia, the Middle East, Asia and the UK including Scottish International Storytelling Festival. Most recently, she performed at Glorious, Monstrous, Hantu Tales, a production by Cake, commissioned by National Arts Council and first presented at Southbank Centre as part of London Literature Festival 2019.
Kamini was commissioned by the Singapore International Festival of Arts (SIFA) to produce a site-specific storytelling experience, The Hidden, in 2018. She frequently collaborates with other artists for multidisciplinary performances including O/AURAL WAVES with sound artist FERRY. Described as "Singapore's most mesmerizing storyteller" by Professor Tommy Koh at the International Summit of the Book, she is one of today's most unique voices in storytelling. For her latest works, follow her on Instagram @kaministoryteller.
Tabitha Surita
Festival Manager
Tabitha graduated with Distinction from Nanyang Academy of Fine Arts majoring in Arts Management. Currently the Assistant Manager at The Storytelling Centre Limited and Moonshadow Stories Pte Ltd, she manages everything from the organizations' finance and administration, artists coordination, programme scheduling, marketing, to producing programmes and more. She has many years' experience in office management for media and construction companies. She interned at The National Gallery of Singapore's events management team, and assisted in The Children's Biennale 2017 and the Yayoi Kusama exhibition.
Mruthika Priya Raman
Project Manager
Mruthika Priya Raman is a BA (Hons) Arts Management student at LASALLE College of the Arts. She is a growing multi-disciplinary arts practitioner and manager with a strong inclination towards mental health and accessibility. Her past experience training to be a performer now informs her practice as an inclusion-oriented arts manager. Thika was most recently part of the five-person organising team in charge of ARTWALK 2022, an interdisciplinary arts and culture festival in collaboration with LASALLE and Singapore Tourism Board.
Amali S.
Production Coordinator
Amali is a graduate of the BA Arts Management course in LASALLE. They have worked with festivals including Singapore International Festival of the Arts (SIFA), the Singapore International Film Festival (SGIFF) and TEXTURES. As a stage manager, their production credits include thisisemeraldgirl and The Utama Spaceship, which was part of M1 Singapore Fringe Festival 2020. They have also curated and managed various exhibitions at Kamal Arts Limited including Split Materiality and Senikita 2021.
Zane Motalif
Digital Producer
Zane's passion for the arts ignited during his polytechnic days. Over the years, he has taken a holistic approach in developing his passion, particularly in festival operations. In LASALLE, Zane was part of the team of RIF 2019 and AWLI 2020. An internship with The Storytelling Centre Limited further developed his skills in digital content creation. Zane hopes to break new boundaries and further his capabilities as an arts manager.
Media Centre
For more information, please contact:
Tabitha Surita
Festival Manager
The Storytelling Centre Limited
E: [email protected]