19 August onwards / Presentation
Story Talk
Conversations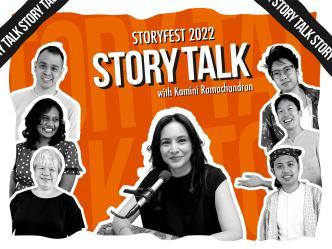 Welcome to Story Talk, a series of short interviews about the different facets of storytelling. Our StoryFest community has learned and grown from the global sharing of practice – and we hope to continue fostering these conversations with this online series.
Join StoryFest's Creative Producer, Kamini Ramachandran, as she speaks with Singapore artists working with different mediums of storytelling.
For storytellers, writers, poets and those who work with narratives, be inspired by these creative conversations. For producers and arts managers, these videos will support your understanding of the literary arts and its many modes of expression.
Story Talk is a free access online resource bank on a diverse range of storytelling related topics.
Where do myths come from? One writer thinks they come from folktales, passed on through generations. Like a game of telephone, little pieces get lost in the mix, until we are left with nothing but the essence of the story. Tune in to hear Daryl and Kamini chat about this and more in this episode of Story Talk!
Have you ever taken a closer look at the elaborate symbols printed in batik? Museum docent Hafiz guides Kamini through a few of such motifs, and shares that there is a tapestry of stories in every piece of fabric. Learn more in this episode of Story Talk!
How do the stories we absorb in our formative years shape our perceptions of gender norms? In this episode of Story Talk, Kamini chats with spoken word artist Melizarani about positioning women and exploring identity in mythology and culture.
What kinds of stories do we tell ourselves, and how can we use those to bridge the gap between different communities and identities? Writer and spoken word artist Stephanie shares with Kamini what her open mic experience has taught her about the tales people like to tell. Hear more in this episode of Story Talk!
What kinds of stories do we grow up listening to and how do they inform the people we become? Do those stories have the room to change and evolve? Storyteller Verena proposes new ways to look at tales as old as time. Find out how in this episode of Story Talk!
How does the medium influence the way a story is told? As adults, how do we make sense of and reinterpret urban legends that scared us as children? Filmmaker Wesley discusses these questions and more with Kamini in this episode of Story Talk!
Daryl Qilin Yam (Singapore)
Daryl is a writer, editor and arts organiser. He is the author of the novella Shantih Shantih Shantih and the novel Lovelier, Lonelier, a finalist of the 2021 Epigram Books Fiction Prize. He co-founded the literary charity Sing Lit Station. His short fiction and poetry have appeared in publications such as the Berlin Quarterly, The Straits Times, Transnational Literature, and The Epigram Books Collection of Best New Singapore Short Stories. His first novel, Kappa Quartet, was selected by The Business Times as one of the best novels of the year, and described by QLRS as "[breaking] new ground in Singaporean writing… a shimmering and poignant novel, an immensely sympathetic and humane exploration of our existential condition."
Hafiz Rashid (Singapore)
Hafiz has been a volunteer museum docent at the Malay Heritage Centre since 2013. As a trained docent, he has conducted tours of MHC's permanent and special exhibitions for members of the public, school groups, tourists as well as various community groups and he regularly receives commendations from visitors. He is interested in learning about the history, culture, folklore and languages of the Malay Archipelago (Nusantara) and uncovering their hidden stories. It is these unique stories that he shares when conducting his tours; the stories behind motifs, cultural practices, daily utterances – stories with deep links to the past. He also does storytelling at the public libraries, sharing stories from the Nusantara with the library patrons.
Melizarani T. Selva (Malaysia)
Melizarani is a Malaysian writer and spoken word poet, with notable performances at ZEE Jaipur Literature Festival and TEDxGateway. Her first book, Taboo is a poetic interrogation of the Malaysian Indian identity. She co-founded 'If Walls Could Talk: Poetry Open Mic', the Malaysia National Poetry Slam, and co-published an anthology of 100 poems by 61 poets from Malaysia titled When I Say Spoken, You Say Word!. Her debut play, Kudumbam, was staged as part of the 24-Hour Playwriting Competition winners showcase by TWorks Singapore. Her poems have been translated into French and Bahasa Malaysia. Presently, she serves as co-editor of 'The Second Link' - A Malaysia-Singapore Literary Anthology project.
Stephanie Dogfoot (Singapore)
Stephanie is a Singaporean writer, performer, and producer whose first poetry collection, Roadkill for Beginners (Math Paper Press, 2019) explores growing up, good times in strange places and strange times in good places. In 2020, with the support of the National Arts Council, she co-created a short film based on poems from the collection called An Intermediate Guide to Roadkill. She has won national poetry slams in Singapore and the UK and has been invited to perform her work in thirteen countries. The founder of a poetry night called Spoke & Bird and the co-founder of a comedy night called Siao Char Bors Comedy, Stephanie is inspired by mud and Southeast Asian wildlife.
Verena Tay (Singapore)
Verena is a seasoned storyteller, theatre practitioner and writer. As an oral storyteller, Verena has delighted audiences in Asia, Europe, and North America with her unique way of bringing stories vocally and physically alive. She is driven to make traditional myths/tales/legends relevant for people today and has successfully coached adults to improve their storytelling craft. Verena has published four collections of plays and two short story anthologies. She has edited twelve volumes of short stories (including the popular Balik Kampung series) and conducted numerous creative writing workshops locally. She is currently completing her Ph.D. studies in Creative Writing with Swansea University.
Wesley Leon Aroozoo (Singapore)
Wesley is an educator and multi-disciplinary artist with 13 Little Pictures. His works span literary arts, film, and theatre, and have been nominated for the Epigram Books Fiction Prize, among others. He is the author of Bedok Reservoir, whose onstage adaptation was performed at the Goodman Arts Centre. A feature documentary companion to his second novella, I Want to Go Home, had its world premiere at the Busan International Film Festival, where he was nominated for the Mecenat award. The documentary was adapted as a multi-sensory exhibition by Mural Lingo for the Light to Night Festival. His latest novel, The Punkhawala and the Prostitute was presented at The Substation's interactive tour 'An Artist's Journey: You are Obviously in the Right Place'.