#StoryThreads
This year, StoryFest has worked on decentralising, and shifting focus from product to process. The arts industry across the globe has had to work tirelessly to re-find our footing, and take on the mammoth task of reinventing the norms we are accustomed to. Having practiced as a storyteller myself, and as someone who is responsible for the Festival, I have enjoyed inhabiting both the virtual and physical space. But with virtual technology encompassing nearly every aspect of daily life, from work, to our social and personal lives, digital fatigue was an inevitable risk. Because of this, we felt it was time for us to re-examine place and space, and reassess our direction. It was vital that we found creative ways to use both physical place and virtual space to ensure sufficient focus on the process.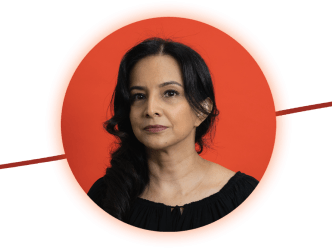 There's nothing quite like the magic of experiencing a storyteller tell you a tale in person. Storytelling as a tradition relies on a three-way connection: valuing the nonverbal exchanges shared between the story, the teller and the listener.
The last two and a half years have been a journey of revisiting our relationship with proximity to others. Here in Singapore, we are slowly relearning how to be comfortable with sharing physical spaces. Yet, the digital space has taken an unprecedented hold on our lives, and important questions remain to be asked about the changing meaning of both spheres. As we attempt to strike a new balance, StoryFest returns as a hybrid edition this year.
Story Threads tugs at the ties we share, be it the invisible web in this remarkably digital age, or the attachments we have with those around us. Historically, the nonverbal dynamics of occupying a physical space together, have played a large role in shaping the significance of the oral tradition. Pivoting away from our habitual closeness and finding ways to recreate the Festival in a fully digital landscape presented a key challenge to us over the last two years.
After five years of successful editions of our Young Storytellers' Showcase, we wanted to continue to set aside quality time for cultivating the next generation of younger talent. The first part of the year was dedicated to a mentorship programme centred around developing children as storytellers, and so began the inaugural Junior Storytellers' Mentorship Programme in April. We wanted the space to be able to work on something that was almost entirely durational, and prioritise the process of workshopping. This led us to devote the entire month of April, and some of May, towards working with children in developing their confidence and storytelling skills, which could easily be applied in other aspects of their lives.
This mentorship culminated in Bedtime Stories, which was a series of one-to-one digital livestream performances making use of global time differences. Bedtime Stories was a tripartite collaboration by Joshua Sofaer Projects, between StoryFest Singapore, OFFTA Arts Festival (Canada), and the Norfolk and Norwich Festival (United Kingdom). This project utilised the web to invite audiences to listen to a story told in real time by a child in another part of the world, through a video conferencing platform. So much of our social and professional interactions have become quickly digitised, which can feel counterintuitively isolating. However, this same digitisation opened us up to a glorious global network of people with a shared vision, and gave us the freedom to traverse geographical and generational demarcations. Participants of the Junior Storytellers' Mentorship Programme captivated audiences in Montreal, Canada, and audiences in Singapore were enchanted by stories told by children in Norwich, England.
In the second part of the year, we are thrilled to announce that The Singapore Showcase returns to the Play Den at the Arts House, with Story Threads, featuring six storytellers sharing local narratives that bind us. After two wholly digital editions, we are gratified by the chance to finally invite live audiences back to witness our expert raconteurs weave a rich tapestry of regional tales. From tracing the roots of popular urban legends to deconstructing folklore, let our master wordsmiths reel you back into the seats of the Play Den this August, or catch bite-sized iterations on the StoryFest YouTube channel.
We have also wanted to build on our existing pool of resources, and continue platforming local artists and their works. Join us in examining the processes of artists in the Story Talk conversation series, which returns to provide a closer look into the approaches of our six performers of The Singapore Showcase. These artists, all of whom work in different strands of the creative and cultural economy, are linked by their love for the narrative medium and resonance with Singapore as a place of inspiration and identity. As before, I will be asking these artists to share insights into their practice, and the connections they forge through their work.
#StoryThreads takes a closer look at what it means to connect, in a period when our assumptions about contact have been tested time and again. Discover the ties that bind: across the globe, across generations and across mediums, with us. Despite not having had a tangible presence over the last two years, we hope that the stories we have told, and are yet to tell, will pull you in once again.
Kamini Ramachandran,
Creative Producer, StoryFest
2021 Message 2020 Message 2019 Message 2018 Message 2017 Message